About the usTLD
For anyone with a dream to chase, an idea to share, a cause to champion, or a business to promote, .US gives you a memorable and credible way to reach your audience online.
---
American workers and businesses operate in a rapidly changing and increasingly competitive world. To address these challenges, we have developed bold new strategies to accelerate and promote U.S. economic growth and opportunity.
Registry Services, LLC, manages the usTLD on behalf of the U.S. Department of Commerce. The Registry Services team and supporting infrastructure have successfully managed the usTLD space since 2001. The structure of the usTLD namespace is like no other domain name space – there is both a traditional second-level registration space and a deeply hierarchical locality-based namespace. Registry Services places great emphasis on the promotion and increased awareness of the usTLD in the second-level space while nurturing the locality-based namespace and maintaining our commitment to ensuring the highest of service levels. The usTLD is poised for further growth and innovation in the public interest, and Registry Services will continue to provide exceptional services to the DOC, Registrars, Delegated Managers and the American Internet Community.
Who is the usTLD Administrator?
Registry Services is a proven world leader and industry pioneer in the delivery of domain name Registry and DNS solutions. Over the past two decades, we have played a defining role in the growth and evolution of nearly every aspect of the global domain name space. Today, we are proud to say that we are the world's largest provider of digital naming services, with experience in successfully launching, managing and growing hundreds of the world's most dynamic domains.
Featured Partners
Whether it's individuals, businesses or organizations, .the .US community is the online place to share your story, think globally and connect locally. We have been able to reach highly engaged, tech-savvy audiences and to drive brand affinity for the .US domain name. We're proud to offer support to communities and groups both nationally and around the world. Learn more about our partnerships and sponsorships.
Technology Infrastructure
Registry Services has a history of providing secure, reliable, and stable DNS systems. The technological infrastructure is specifically designed to operate in an environment of high-volume transactions, to ensure maximum performance, and to protect users against cyber-attacks and security risks.
Some of the key elements of the technology platform are the shared registration system, and a global network of DNS servers: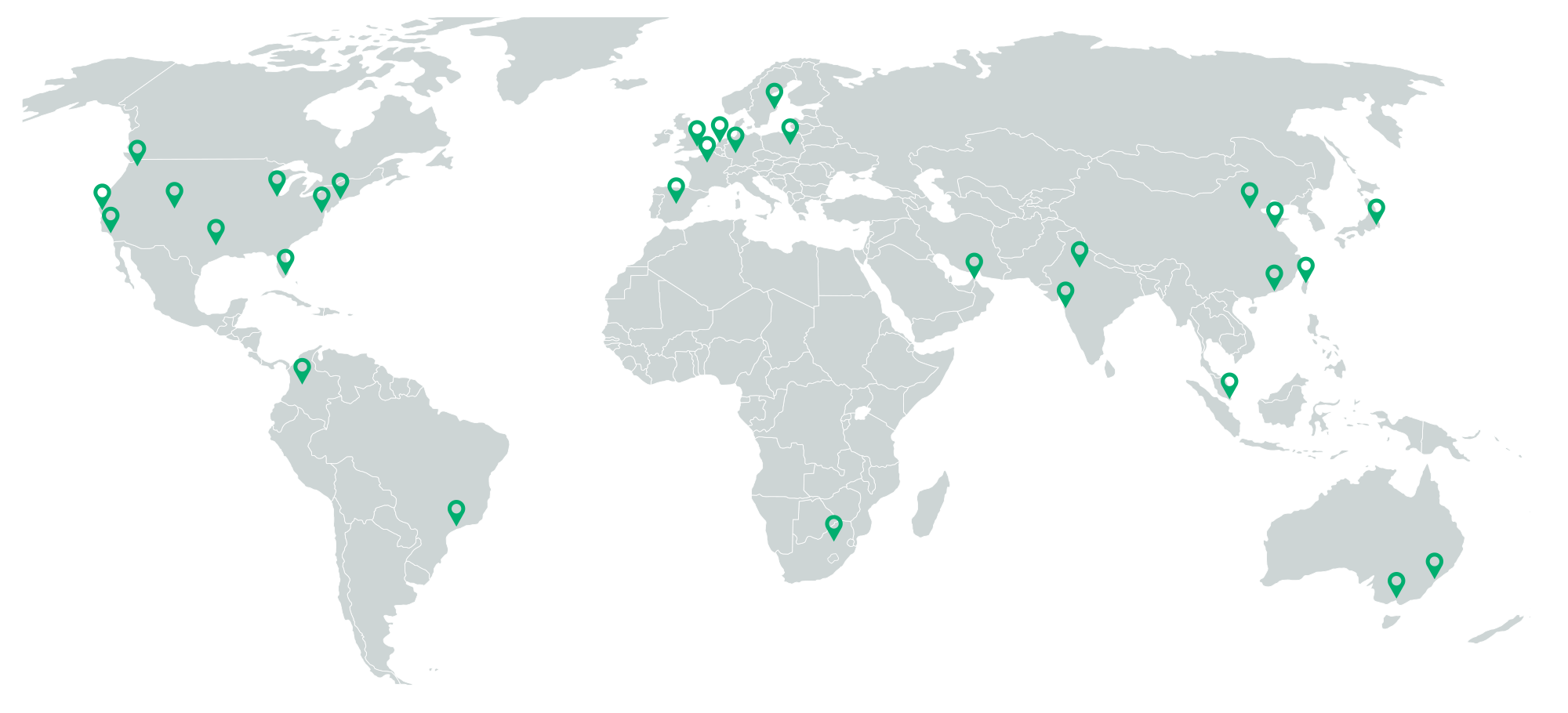 Current Network of 30 Nodes
Second-Level Domain Name Space

A second level domain refers to the name to the left of the dot "." of a .US domain extension. The expanded second level domain name space was launched in April 2002 and has since increased usTLD second-level registrations from zero to over 1.7 million domain names.
---
Locality Domain Namespace

Registrations in the locality space have been in existence since 1992 and reflect the oldest part of the usTLD domain namespace. These registrations represent the political geography of the United States based on two-letter state abbreviations and divided further into localities, including cities, counties, parishes, townships, or local names (e .g., Alexandria.va.us). In addition to geographical locality names, the usTLD locality space also includes certain affinity names, for example, STATE, FED, K12, LIB, and NSN (Native Sovereign Nation). Locality and affinity names collectively compose the "locality space."
The State of usTLD Policies and Procedures
As the usTLD Administrator, Registry Services takes seriously its responsibility to act as the trustee for the .US domain, serving both the local and global Internet communities. We have devloped usTLD policies and processes to ensure the integrity of the usTLD, and to provide a model for management of country-code domain names and future new geographic city-based generic top level domains around the world.
The usTLD has evolved into an acknowledged model of TLD management, delivering a safe, reliable, and policy-rich name space operating in the public interest. A key component of our successful management has been the development, implementation and enforcement of unique usTLD policies and procedures that support the steady, responsible growth of registrations in the second-level expanded space while also ensuring compliance with all required policies and registration procedures.
The usTLD Nexus requirements that ensure that registrants are reliably subject to United States law and the jurisdiction of United States courts;
A requirement for accurate, reliable and up-to-date WHOIS data backed up by tools and procedures to proactively identify and address inaccurate and/or incomplete data;
True registrant accountability ensured by a prohibition on private/proxy registrations;
Locality Delegated Managers must agree to, and abide by, enforceable terms of the Delegated Manager Agreement;
Locality registrants are subject to the terms of the Locality Registrant Agreement;
Prohibitions on use of usTLD registrations for malicious, abusive, and/or illegal activity are backed up by sophisticated technology tools to identify and respond to cybersecurity threats;
usTLD Monthly Activity Report
View monthly reports on Neustar activity in support of the usTLD management. The information presented is primarily available in table and chart format with text explanations as deemed necessary. Documents include updates on the following categories:
Summary of major events
Performance Data
Monthly Transaction Statistics & Registration Data
Website Statistics
Accredited Registrar Status
.US Locality Statistics
Nexus & WHOIS Compliance
Registry Services provides publicly available reports from the most recent two years. If you wish to access a report that is older than two years but falls within the current usTLD Contract Term starting from 29 August 2019, it has been archived. To request an archived public report, please contact us.
usTLD Annual Report
Registry Services, the Administrator for the usTLD, is required to comply with a code of conduct that is designed to ensure continued neutrality. This commitment to neutrality is applied to all of Registry Services' activities through the company's Code of Business Ethics, Registry Operator Code of Conduct and the usTLD Stakeholder Council Conflicts of Interest Policy.
Registry Services publishes an annual Conflicts of Interest Report certifying compliance with its Conflict of Interest requirements.
Learn more about the usTLD
View All .US is the web address for American dreams of all kinds.
Stats & Trends
With .US, you get a unique web address that helps you stand out in a digital landscape. It's a great way to differentiate yourself as the Internet becomes more crowded than ever.
Policies & Governance
Designed to safeguard and promote the public interest, the usTLD delivers a safe, reliable namespace in a policy-rich environment. .US can be registered by any individual, business, blog or...
Meet the Stakeholder Council
Increase visibility for your business with online local listing services; publish to 100+ local search platforms, mobile applications, navigation systems, and directories at one time - from one place.
Meet the Stakeholder Council
---
Increase visibility for your business with online local listing services; publish to 100+ local search platforms, mobile applications, navigation systems, and directories at one time - from one place.
Learn More
Here are a few quick links for learning more about the .US top-level domain.
Here are a few quick links for learning more about the .US top-level domain.
1.7M

+
.US Domains
Registered
200

+
Trusted Retail
Partners
50

+
Useful Tips &
Marketing Tools
15

+
Years of Launching
Ideas Online