usTLD Locality-Based Structure
Locality and affinity names collectively compose the "locality space"
Serving as the usTLD Administrator for the Locality-based space is one of the more complex aspects of administering the usTLD and requires a deep knowledge not only of the technical issues, but experience in negotiating complex agreements with the Locality-based community. When the Department of Commerce contracted for a usTLD administrator in October 2001, the sole namespace was the deeply-hierarchical legacy locality-based usTLD structure, for which no authoritative records of delegations and sub-delegations existed. Registry Services has developed a documented management framework for the usTLD with policies and procedures specifically for the locality-based usTLD structure and provides continued administrative oversight to ensure the minimum techinical and service requirements are met by both Delegated Managers and locality-based registrants.
Registry Services provides SRS, DNS, WHOIS and customer support services at no charge to registrants in the locality based space, whether or not we serve as the Delegated Manager.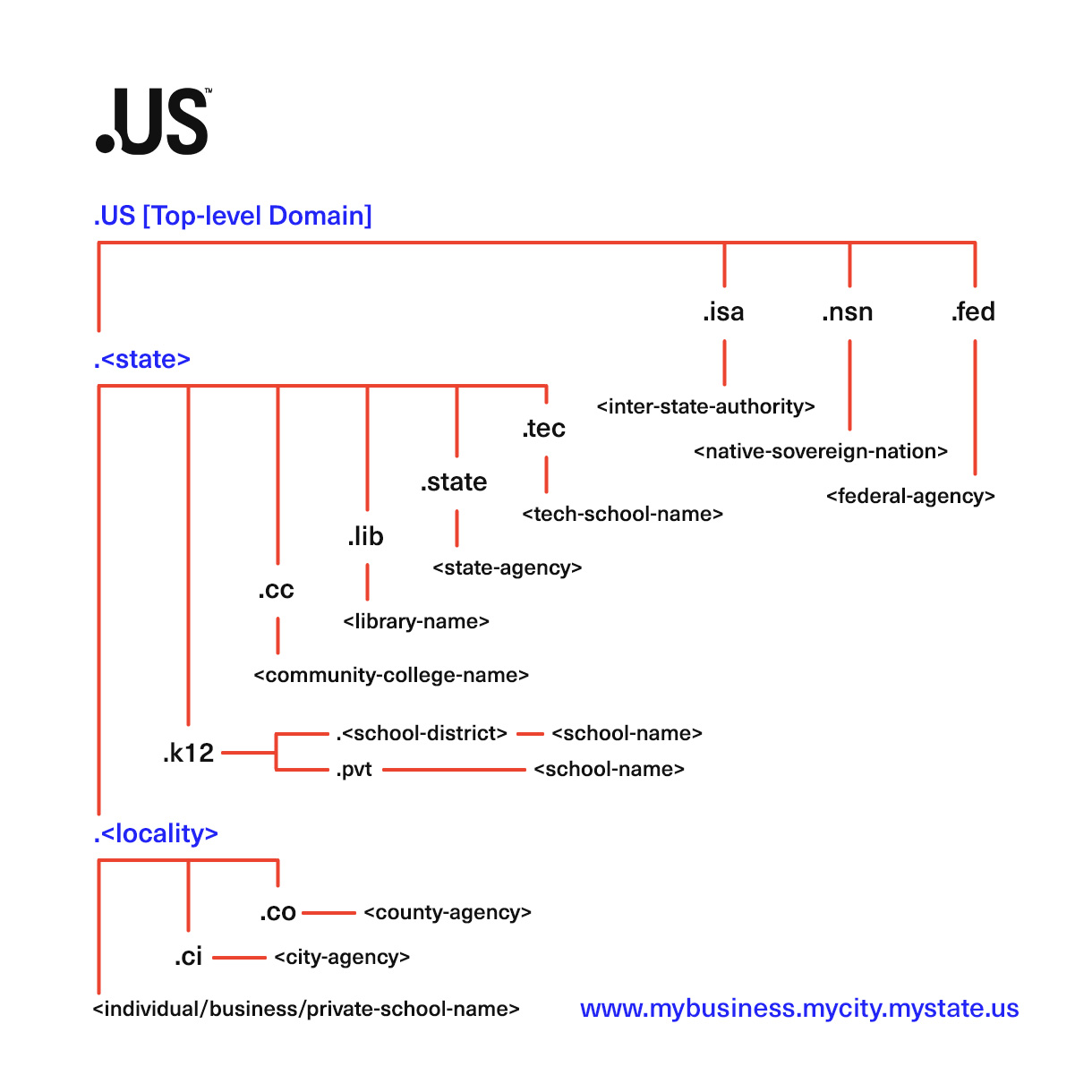 The usTLD Legacy: Deep Hierarchy
The hierarchical structure of the usTLD, as established by RFC 1480, is based on political geography. The second level is designated for states and US territories, based on the two-letter state and territory codes assigned by the U.S. Postal Service, and this space is further subdivided into localities. This is the primary basis of the .US Locality Name Space.
The structure is divided by:
Two-letter state and territory abbreviations assigned by the United States Postal Service

Locality names including cities, counties, parishes, townships, or local names (e.g., Alexandria.va.us)

Special affinity namespace such as FED, STATE, K12, LIB, CC, and NSN

Domain names may only be registered under the locality domains or under the affinity domains.
Delegated Managers
The administration of the usTLD Locality namespace is managed by entities and/or individuals called Delegated Managers who follow comprehensive technical and service requirements. Individually and as a group, Delegated Managers play a valuable role in the management of the usTLD Locality namespace.
Delegated Managers work directly with the usTLD Administrator to maintain their usTLD Locatlity delegation(s). In order to ensure common and widespread best practices among Delegated Managers for the benefit of the Locality space users, the usTLD Delegated Manager Agreement sets forth the relative rights and responsibilities of Registry Services, as the usTLD Administrator, and each Delegated Manager. For existing Delegated Managers, an executed usTLD Delegated Manager agreement is required to continue delegation management services.
Delegated Managers are contractually obligated to permit the usTLD Administrator to inspect and download the zone file information of each of their delegated domain names. This is designed to ensure that the usTLD Administrator has current information on each of the sub-delegations for the purpose of maintaining an accurate record of registrations, and to ensure continued, uninterrupted service in the event the Delegated Manager is unable or unwilling to continue providing delegation services. To ensure that each Delegated Manager is in compliance with this requirement, the usTLD Administrator performs frequent inspections of Delegated Manager zones.
Note to Delegated Managers:
The Department of Commerce (DOC) requires any domain names in the locality space to have two (2) authoritative domain name servers. If you make a request to have your name servers changed, be sure to have your hosting company create "A" records for the name servers and update this information in their zone.
usTLD Delegated Manager Agreement
Locality Registrants
Registry Services currently serves as Registry, Registrar, and Delegated Manager for all undelegated third-level locality domains (i.e. all third-level locality domains that do not have an assigned Delegated Manager). Additionally, Registry Services becomes the Delegated Manager by default for any third-level locality domain whose existing Delegated Manager decides to relinquish management of their delegation. Registrants, or users, of locality based domain names are required to enter into a contractual relationship with their designated Delegated Manager.
The usTLD Locality Domain Name Registration Terms & Conditions Agreement sets forth the terms and conditions governing a Registrant's use of registered locality domain name(s) for which Registry Services is the Delegated Manager. Registrants of locality based domain names with Delegated Managers other than Registry Services will sign a registration agreement directly with that Delegated Manager.
Registry Services is currently unable to process new third-level delegations or domain name requests.
Locality Registrant Terms & Conditions
Moratorium on New Delegations
Registry Services continues to operate the locatlity namespace under RFC 1480 guidelines. In accordance with its current Statement of Work and contract, Registry Services will not authorize any new Delegated Managers in the usTLD locality-based space. While the existing Delegated Managers perform a valuable function that has historical significance, there is little benefit to be gained by adding new Delegated Managers. Registry Services has extensive experience as the default Delegated Manager for several thousand delegations and continues to fulfill that role.
Please direct all questions or discussion about Delegated Manager or Locality registrant administrative, technical, policy or customer service issues related to the operation and management of .US to locality-support@about.us
Learn more about the usTLD
View All .US is the web address for American dreams of all kinds.
Stats & Trends
With .US, you get a unique web address that helps you stand out in a digital landscape. It's a great way to differentiate yourself as the Internet becomes more crowded than ever.
Policies & Governance
Designed to safeguard and promote the public interest, the usTLD delivers a safe, reliable namespace in a policy-rich environment. .US can be registered by any individual, business, blog or...
Meet the Stakeholder Council
Increase visibility for your business with online local listing services; publish to 100+ local search platforms, mobile applications, navigation systems, and directories at one time - from one place.
Meet the Stakeholder Council
---
Increase visibility for your business with online local listing services; publish to 100+ local search platforms, mobile applications, navigation systems, and directories at one time - from one place.
Learn More
Here are a few quick links for learning more about the .US top-level domain.
Here are a few quick links for learning more about the .US top-level domain.
1.7M

+
.US Domains
Registered
200

+
Trusted Retail
Partners
50

+
Useful Tips &
Marketing Tools
15

+
Years of Launching
Ideas Online