Unlocking the Power of SEO: How Small Businesses Can Drive More Traffic to Their eCommerce Site
June 09 2023
Authored by: Kristin Johnson • 5 Minute Read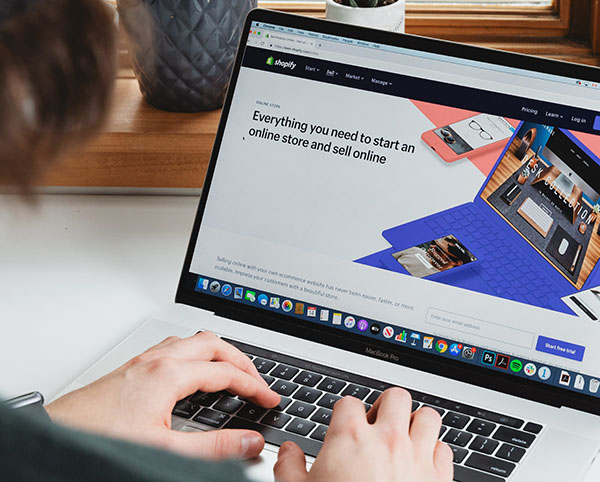 ---
For ecommerce websites, search engine optimization (SEO) is like that well-placed billboard off an empty stretch of highway, advertising a juicy burger and ice-cold drink right when the driver is feeling the hungriest. It's an easy win.
SEO is the process of getting a website to rank higher in the search engine result pages. It has one of the highest ROIs of any online marketing strategies and has the capacity to transform a business, yet many businesses build their online stores with little thought of SEO. Perhaps they just don't know where to start. The following are a few tips to get you going on your way. It will take some work up front, but before you know it those sales will be making themselves!
Choose the Right Keywords
Keywords are a vital part of an effective SEO campaign. According to a global retail study, more than half of the shoppers surveyed said they search Google before making online purchases. Keywords should be relevant, easy to rank, and frequently searched. They should also and have high "cost per clicks,"(CPC) which just means there's a higher likelihood of a purchase. Using tools like Google Keyword Planner, SEMrush, or Ahrefs can help identify useful keywords and installing the Keywords Everywhere browser extension, identifies the search volume, CPC, and how easily a keyword ranks on Google.
Resourceful business owners will not rely only on tools. Reviewing results from actual searches yields useful information, such as the overall quality of competition. Speaking of competition, consider which keywords competitors are using, too. Amazon is another great place to mine for keywords. The recommended searches as well as the category and department pages can yield useful keywords for your business.
Optimize web pages for those keywords
After identifying the right keywords, the next step is to place them in the right places on your site. For example,
The URL. Create a readable URL that includes a primary keyword, relevant to the content on the page to improve search rankings.
The Title Tag. In the page or category title, place the keyword as close to the beginning as possible.
Image alt text. Google relies on text to "read" images. Including keywords in the image alt text is another change to have it appear on the page and can help it show up on a Google image search. Another tip: when possible, use high quality pictures and graphics to catch attention and improve customer conversion. Fiverr and Canva are useful resources.
Body Copy. Google considers itself a research tool and rewards text heavy sites as it believes visitors are more likely to find answers to their search queries. Including introductions (around 300 words for category pages and 1000+ words for products) allows for more uses of effective keywords.
Description Tag (or metadata). Including keywords in metadata does not impact ratings, but it will make the keywords appear in bold text, which can improve click-through rates. Tip: New to meta tags? Check out the guide on How to Write Meta Tags Like a Pro.
Improve site structure and navigation
SEO expert Bill Widmer states there are two golden rules of site navigation and architecture:
Every page should be 3 clicks or less from any other page
Make everything simple and scalable
Keeping information easily accessible and close to the homepage preserves a site's perceived authority and helps it rank higher on search engines.
Adding internal links between pages helps visitors go from one page to another while improving ease of navigation within a site.
Ease of navigation is important across a variety of devices. It was reported that more than 60% of Google searches were performed on a mobile device. Making sure a website is mobile responsive is crucial to a successful SEO strategy.
Site speed is another key factor for ecommerce sites. According to Widmer 40% of people will abandon a site that takes longer than three seconds to load. Discovering a site speed is as easy as entering a URL into Google's PageSpeed Insights. Slower sites can install a caching plugin, compress large files, and get a better hosting provider to improve site speed. The effort is worth it.
Of course, it's wise to perform regular site audits to ensure everything is working correctly. Tools like Ahrefs, DeepCrawl, and SEOmator can run diagnostic tests to identify broken links, missing image alt text, and other areas that can be improved.
Create Backlinks through Quality Content and Relationships
In addition to SEO strategies, companies can improve their search rankings by creating quality, relevant content and by getting links from other sites with high domain authority. This can be a bit more complicated, but there are several effective approaches. Building a resource page with blog posts or FAQ's that are easily shareable can provide more opportunities to establish relevance and authority. Partnering with influencers or guest posting on another site also provides opportunities to share links that drive people back to a site and boost its search ratings.
Monitor results
Google Analytics and Ahrefs can help monitor the progress of your SEO campaign. Beyond rankings, there are subtle clues to watch for, like increases in search traffic. Take note also of which landing pages are performing well to identify successful keywords.
There are many ways to get traffic, from social media to paid ads and email. However, organic search traffic is the only one that is reliable, free, self-sufficient, and relatively easy to get. It requires some work up front, but there are many tools and guides to help you on your journey. Download the SEO Basics for Small Business ebook for a complete guide with examples and resources. It's worth the effort to get quality website visits that convert to customers.