Social Media Strategies: Why Your Business Needs to Get Social
June 20 2017
Authored by: Chelsea Hurley.US Team • 13 Minute Read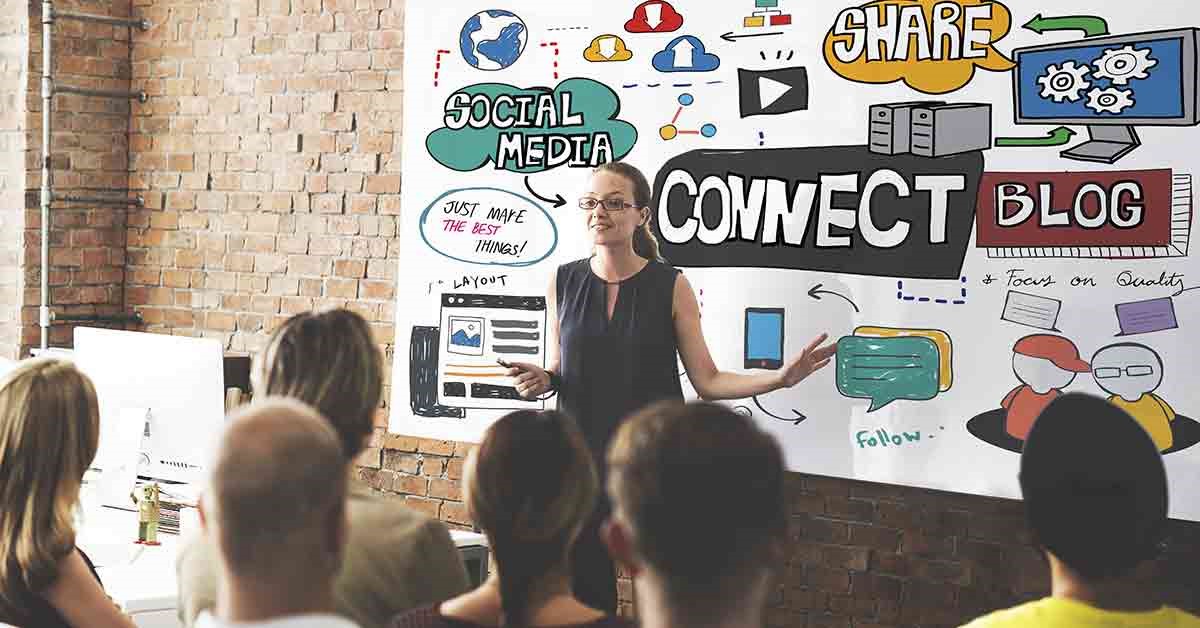 ---
It's a fact– the social media revolution that's taken place over the last decade has changed lives and online brands across the globe. Social media is so much more than just keeping in touch with our friends on Facebook. Thanks to various social media sites, we share our lives, keep up with our favorite brands, public figures and celebrities, post and view photos, learn new things, stay informed of the latest world news and watch videos on every subject imaginable–including dancing cats! While we enjoy engaging in all of the above activities for our personal enjoyment, social media is also a majorly important component of any brand's online presence.
If you're a small business owner or startup, there is a good chance you're strapped for resources, time, and perhaps budget. Thus, the thought of coming up with a ton of different social media strategies can seem like a daunting task. But it doesn't have to be–take a deep breath and simply come up with a streamlined action plan that is tailored just for your business. Instead of going crazy signing up and posting on every single social media site, just focus on those that are right for you, and then consider getting more in-depth with a particular social network where it makes the most sense for your business. You can also take advantage of the various social media marketing management software available. A few include Sprout Social and HootSuite. Programs like these help to streamline your social media work, in turn helping you with time management.
Download our guide for tips and best practices on the major social platforms here.
An option that can work well if you are a startup or type of business that may be desirable for students to be a part of, consider taking on an intern. It's a win-win–you're getting work done for free, and they're building their resume and gaining experience! Before you begin setting up several profiles, check out KnowEm to see if your desired screen name or handle is already taken. For example, if you are running your own brick-and-mortar business, make sure you have some kind of presence across all of the pertinent social sites that make sense: Yelp, Facebook and Twitter–and, if it makes sense for your business, branch out to Instagram, Pinterest and YouTube. One of your goals should be to amplify your online reputation within your local area. If you're a startup, focus on sites including Twitter, Facebook, LinkedIn, Google+, YouTube and Instagram if it makes sense. Your goal should be to get the word out about your fresh new site, and inform people that have never heard of your startup what your brand is all about.
Do Your Homework
Before launching your social media campaigns, it's wise to do some competitive research first. Thousands of local businesses choose a .US web address, and it sends a strong message that your business truly believes in the power of local business. If you're a local business, make sure to check out your local competition before launching your social media strategies. Do a simple Google search for your core keywords (i.e., Atlanta Pizza) and check out which businesses show up at the top. Then, head back over to KnowEm to find out what social media sites they have a presence on. Visit those sites, check out their profiles, and take notes. Perhaps some of their strategies could work well for you too. A few things you may want to take note of:
What sites do they have a presence on? Which are they most active on? How often are they posting?
What is their strategy? For instance, are they strictly focused on their own sites, or do they post content from other places across the web?
What kind of promotions is the business running across each site? Contests? Discounts? Giveaways? Check-in specials?
Is this business using any site for a customer service platform? Are they interacting with customers?
What are customers saying about them?
Are they on Instagram? What kind of images are they posting?
Take note of what effect a business' strategies may be having. For example, if you know for a fact that one of your competitors is doing exceptionally well, and you see they are especially active with their promos and customer interactions on Yelp, then you may want to do the same.
Social Media Sites & Their Focus
Twitter - Think of Twitter as a mini-blogging platform of sorts. Tweets posted must be fewer than 140 characters and can include status updates, links to sites, and ongoing conversations of sorts. Hashtags are used–always followed by the # symbol–and the most popular end up being "trending topics". Users communicate with each other and their followers in their Tweets and followers by adding the @ symbol followed by the user name.
What You Need to Know: Twitter is a great way to post updates about your brand, get involved in your industry's community, interact with customers, post about blog post/content updates to your site and link to related interviews or online mentions about your brand. Don't just keep Tweeting about your own sites; become active by linking to other interesting sites and following and retweeting other users' interesting Tweets.
Facebook - Facebook is one of the most popular social networking websites. For personal use, it is used to stay connected with friends through status updates, messaging and chat. For businesses, you can create your own Facebook Pages, gain followers and "likes", and also advertise.
What You Need to Know: If you are a business, Facebook Business is a great way to communicate about your latest updates, interact with your customers & followers, post contests, and let people know about new content updates, site changes, and promotions. Organize your efforts across Twitter and other platforms. Remember to focus not just about your site, but also about other engaging content from across the web. Interact with your followers directly.
Google Plus - Google Plus is a social platform that made up of features including streams, circles, Hangouts and messenger. Friends are organized into "circles" which users assign labels to such as friends, colleagues, etc. Google Hangouts are similar to Skyping–several users set up a virtual chatroom and conduct chats, webinars and meetings.
What You Need to Know: Google+ Pages are a way for businesses to communicate to the world about their brand. Also be sure to actively build your following and consistently follow users you find interesting. Side point: It has been speculated (although not proven) that Google+ activity has been shown to help boost a website's search engine rankings. By keeping an accurate business description, hours of operation and address info on your Google+ Page, this will help with directory searches on Google and Google Maps, ensuring customers can easily find you.
Pinterest - Pinterest is a site that brands itself as a visual pinboard, allowing users to "pin" pages from around the web that they find interesting and organize into different pinboards they create—for example, users post recipes to a recipe board, etc. etc. Pinterest has become increasingly popular, especially for women.
What You Need to Know: Since Pinterest is such a visual site, visual content does really well, such as photos, illustrations and infographics. Pinterest's demographics skew heavily female. DIY tips (such as recipes, crafting, home improvement tips, etc.) do great on Pinterest. If you have a business, create a branded account and post lots of visual content from your site and other sites you love. Search for related topics and follow users that post interesting content around those topics.
Instagram - Instagram is a mobile photo-sharing platform which allows users to take pictures, edit them, post them across additional platforms like Facebook and Twitter, apply hashtags to them, and interact with their followers and friends. Users can search topics by hashtags, similar to Twitter.
What You Need to Know: Become active, gain followers, follow users you admire and interact with them, and consider running contests. Post images that are truly compelling, and take note of what you like about the accounts you admire–especially online brands. Follow public figures you like–such as online brands, artists, activists, celebrities, athletes, industry influencers– in addition to your friends. If you have a business, think of Instagram as a mini-magazine showcasing your brand. For example, if you carry clothing, post compelling pics of your new inventory. If you're a local business, share pictures which are related to your city, and make sure to use corresponding hashtags.
YouTube - YouTube is an extremely popular video sharing site. Although many videos are user-generated, many startups, brands and media sites create channels and upload videos as well. It's an awesome way to tell your story to the world. Users can save videos they like and organize them, follow users, and post videos across platforms such as Facebook. Popular YouTube "stars" can have millions of followers!
What You Need to Know: A clever and funny video can go viral and achieve huge success for an online brand. Even if you're a local brand, you may want to consider creating a channel and posting your own videos and other interesting videos you like. A boutique and showcase their newest inventory in a runway show, or maybe a local bakery can provide a step-by-step cake baking lesson. Get creative! Remember, YouTube videos show up heavily in search engine results, so stay active and use the platform to amplify your brand.
Yelp - Yelp is a reviews-based website that focuses on local business such as restaurants, hotels, bars, stores, salons and much more. Yelp users rate businesses with a stars-based system and submit their reviews. Users can follow their friends and other users they find interesting.
What You Need to Know: Yelp is a powerful tool for local businesses, especially those in the service-industry. Yelp's star-review rating system has become the gold standard for potential customers seeking new services. As a business owner you should become active, respond to reviewers, and ask your customers to leave positive reviews, use it as an effective customer service platform. Constantly check Yelp for new reviews of your business, and respond to the reviewers – whether they've given you a positive or negative review – to stay active on the platform.
LinkedIn - LinkedIn is a social networking and job listing website for professionals. Users can create business pages, post resumes, endorse and review past and current colleagues, search for and post jobs, post brand links and updates, and add connections. Recruiters often post jobs and communicate directly to users whose profiles appear in results for industry topic searches. LinkedIn groups are a great way to chat about topics within an industry. For businesses, online brands and startups, creating a strong LinkedIn business profile shows a level of professionalism as well as communicating the brand's mission statement.
What You Need to Know: Although LinkedIn is an indispensable tool for job searching, it is also a powerful online reputation tool for businesses as well. It's also important to know that profiles often rank highly within search engines. Make sure your profile is thorough, well-written and updated often. Join groups in your industry to make new connections, and reach out to all of your current ones.
Best Social Media Sites for Local Businesses
If you're a local business, Yelp, Twitter and Facebook are the top three social sites you want to be on. Facebook and Yelp are extremely important to any local business social media strategy, so focus on those two in particular. Also ensure your business is listed on Google Plus, whether or not you actively post or engage in content, you need to have an accurate business listing page. Also check if YouTube may be a match for your strategy. You may want to join Facebook groups that are relevant to your business, and make some contacts within those groups. For Facebook especially, there are several tactics that work well for businesses:
Exclusive Facebook offers, contests and giveaways
Visually pleasing pages which feature lots of images
A large amount of customers positively interacting with the business on the page
Being active within the community

Sponsoring events
Posting pictures of your presence
Sharing your experiences through engaging content
Yelp is also another necessary site to remain active on. Successful strategies include:
Staying active and making sure your info, profile and links are accurate
Respond to those Yelpers which are reviewing your business

Show your appreciation for those posting positive reviews
Never be negative toward those posting negative reviews. Remain calm and apologetic, vowing that you're taking their review to heart.

Post Yelp-specific offers, for example, check-in offers
Hyper-Focused Social Media Sites
After you've come up with your strategy for the major sites, you may want to research if it makes sense to participate on an industry-specific social media site. For example, Houzz is a cool social media site and app that is focused on home remodeling. It may make sense for you to participate and feature your work on that site. Stay active in discussions and forums, and share lots of your photos.
Social Media Advertising
Although it may seem counter-intuitive to invest in something that is free, paid social media advertising can actually be a very effective online marketing tool for your business. Before you begin, identify your goals (such as more signups, more sales, etc.), decide which sites you'd like to focus on, and establish a budget that you won't exceed. If you are familiar with running Google AdWords campaigns for your business, then social media advertising will be a snap to pick up. For Facebook, The fundamentals are very similar, but on a much more basic level. You can promote your Facebook page or specific post or your website. You can also customize your audience, so, if you are a local business, you can choose to only target your region, certain interests, behaviors or friends of people that have already liked your page. For the ads, they are short and comprised of a 25 character headline and 90 characters of text. You can add a photo, which is a big advantage. If you choose not to add one, it will by default show as the thumbnail for your business on its Page. Use any photo you like, but make it compelling. It has been speculated that images of people and photos perform better than logos. For Twitter, visit their Ads section for more info. For strategy, it makes the most sense to promote a specific post. Although it sounds obvious, remember to make sure you pick tweets that link back to your blog or website directly. For budgeting, Twitter recommends a minimum bid of $1.50 per click. However, the fee for "Promoted Tweets" varies and is based on what the competition is doing. The higher you bid, the more likely your tweets will be promoted. There is also a completely separate ad system that can place your company in the "Who to follow" box on the Twitter home page, promoting your brand to users who are likely to be interested in your company. You only pay per new follower based on a bid system.
Takeaways
Decide what your social media goals will be before you begin
Do competitive research and take note of which competitors' strategies may work for you
Register for and create a page for the major sites you want to focus on
Add content buttons to your website and at the end of your blog posts and product pages
Consistently post great content and make it easy to share
Participate in the community and heavily interact with users
Use social media sites as an effective customer service platform if it makes sense
Get creative with your activity
Consider running social media contests and promotions
Make sure your social media profiles reflect a strong presence in your local community
Educate yourself on the intricacies of paid social media marketing and if it's right for your startup or business
Explore social media scheduling/productivity tools to simplify your marketing efforts
We hope you've enjoyed this blog post, and gained some valuable tips about how to make social media work best for your business!
Download our Social Media Survival Guide
Editor's Note: This post was originally published in September 2015 and has been revamped and updated for accuracy and comprehensiveness.