Meritorious.us Entrepreneurs Start Professional Network for Veterans
August 09 2021
Authored by: Kristin Johnson • 3 Minute Read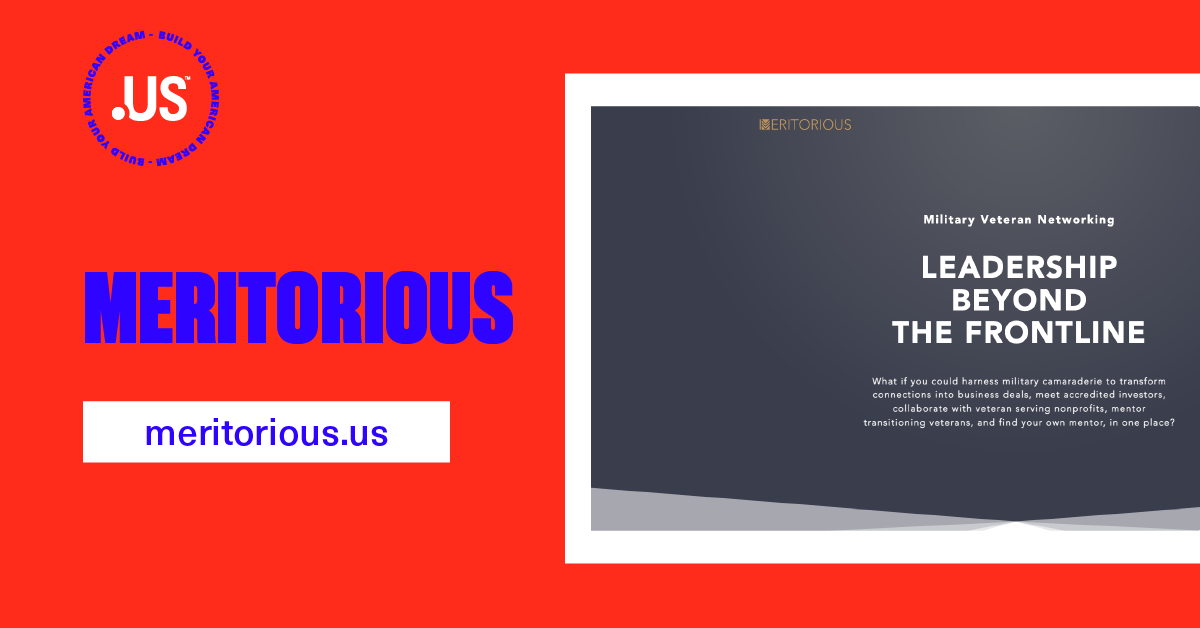 ---
About 12 million American workers have lost their jobs in 2020 as a result of the pandemic, and unfortunately, those who have served our country were not shielded from the employment and small business crisis. As of December, the unemployment rate among American veterans stood at 5.3 percent and while the new year and vaccines may usher in hope, many vets are seeking to instantly jumpstart their careers by relying on military networks and veteran support systems.
Katherine Kostreva, national Director of Development and Marketing for PsychArmor Institute, and Ryan Loya, a US Marine Corps Veteran, and fractional CEO for startups at Columbia Technology Ventures, joined forces to create one of those support systems. Amid Covid-19 and despite social distancing mandates, they sought to build a platform that would encourage connectivity at a time when their community needed it most.
After advocating for the reform of the Department of Defense Transition Assistance Program (TAP), the duo launched Meritorious.US, a one-stop-shop for networking and professional development platform for military executives, veteran entrepreneurs as well as military spouses.
We co-founded Meritorious so that military-connected professionals and business owners can re-engage with their brothers and sisters and leverage that network effect for exponential success," says Kostreva.
Upon launch, they opted for a .US domain to tie their project to those those who've served across the country. "We dominate entrepreneurship and are the backbone of American business," says Loya. "Harnessing military camaraderie through a single community allows us to excel professionally while contributing to a greater purpose, as we did in service."
While the pandemic has harmed and shuttered many small businesses, Meritorious is finding surprising success through its niche virtual platform, with over 600 individuals already on its waitlist. They also have a roster of impressive supporters and keynote speakers, including Matt Kress, Senior Manager of Veteran and Military Affairs at Starbucks, and Jim Glassman, Head Economist at JPMorgan Chase. Meritorious also hosts educational series for entrepreneurs, including a small business management series with Jelina Saliu, CEO of The Laundress (which sold to Unilever for $300 million) as well as motivational talks from executives like Laura Lane, the new Chief Corporate Affairs and Communications Officer for UPS.
As mentioned, this isn't the first time the cofounders teamed up to support fellow veterans. Here Kostreva outlines their startup journey and lifelong mission to support military careers and veteran-founded businesses:
.US: Tell us about your history of advocating for servicemen and servicewomen entering the American workforce.
Kostreva: During Ryan's transition from the Marine Corps, we saw a need to reform the Department of Defense Transition Assistance Program (TAP), which aims to prepare transitioning service members for re-entry into the civilian workforce. Due to program shortcomings, we lobbied to reform TAP, meeting with dozens of members of Congress to push for improvements and more accountability.
.US: How successful were you in this massive endeavor?
Kostreva: Our 32-page proposal, turned legislative act, was championed by Congressman Don Bacon. Key mandates are now law in NDAA 2019, including the requirement that TAP be completed 365 days prior to End of Active Service, and program impact be measured, consolidated and delivered to Congress annually.
What inspired you to launch Meritorious?
Kostreva: Over the past few years we struggled to find groups specific to military connected individuals for peer-to-peer support and professional growth, and so we set out to build such a platform that would create connectivity and access to resources during a time of social distancing, with capacity to scale both virtually and physically post pandemic.
What distinguishes Meritorious from other online veteran networks?
Loya: Meritorious is a private community for military veteran and spouse leaders with member portal, networking events and professional development resources, including Mentor Connect, Tactical Decision Games, and Masterminds led by executive coaches and industry experts.
What is your long-term mission?:
Loya: Our mission is to empower our military and veteran leaders to grow together long after we take off our uniform. We want to remind the world that veterans are an incredible workforce.