MakersMarket.US Wants To Redefine How We Buy Home Goods
December 13 2021
Authored by: Kristin Johnson • 3 Minute Read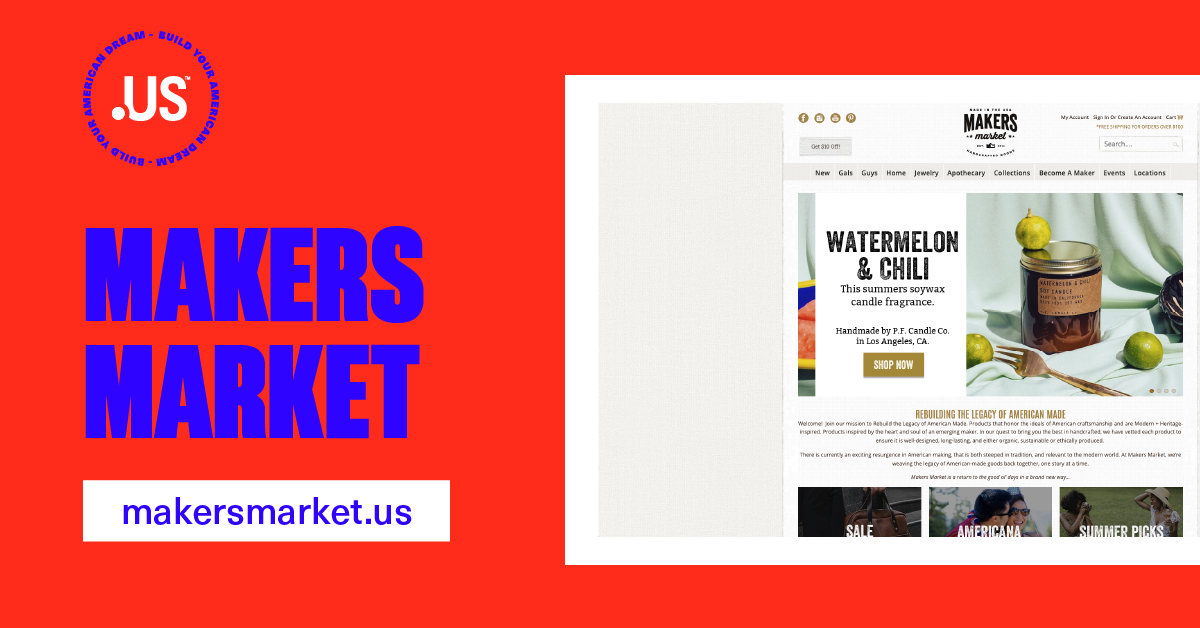 ---
More and more shoppers are rejecting the concepts of fast-food and fast-fashion, and bringing the same purchasing ethos to other consumer categories. As a result of the "maker movement," consumers are also awakening to the importance of well-made and handcrafted home goods.
For Suzy Ekman, sustainably-made home decor has been something she has appreciated since childhood. Growing up in the South, she watched her father in his workshop and accompanied him through the countryside to discover other potters, blacksmiths, furniture makers and textile weavers. After hearing from scores of artisans firsthand, she developed a lifelong love for items made by hand, right in the U.S.
"I was intrigued by the makers and their stories," she said in an interview with SFGate. "I loved hearing about how they learned their trade, which was often something that was passed down from generation to generation."
These memories stayed with Ekman, and even inspired her to launch Makers Market in 2013. The Bay Area-based retail startup scours the U.S. for the handmade products, giving the people behind the products a platform to share their story. While it has physical stores in Napa Valley, Mill Valley, Walnut Creek and San Jose, it also has a .US site to give other conscious consumers access to the marketplace's beautifully designed items. According to SFGate, Ekman spent eight months alone on refining the ecommerce destination, to ensure it features not just an array of products, but the entrepreneurial stories behind those products as well.
As a result, both its storefront and ecommerce have the same feel: to make shoppers feel "like you are one on one with a master craftsman in their workshop, hearing their tales as they create."
For those who shop online, the website goes the extra mile by publishing blogs about gift guides and seasonal style guides, further empowering its community of makers. But what really distinguishes MakersMarket.US is that it is a hub for both retail and storytelling, with a section dedicated entirely to its featured artisans--a majority of whom are women and from diverse backgrounds. Every few weeks the website features a new small business owner, and uses the art of writing, photography and videography to help buyers discover the passion behind that artisan's creations. Customers can even learn more about their creative process.
While the crafted products are usually made from natural and upcycled materials like wood, metal, and textiles, Ekman's eye for design has curated a modern and refreshing set of inventory that continues to grow and evolve with new makers from across the country.

For starters, there's Ivory Ross, founder of Knotted Ivory, who took up crochet 20 years ago while pregnant. Her Southern California-based business has evolved into macrame decor and other loom-weaving art forms that can beautify any room.
Another women-run shop is the Appetite Shop, a Portland-based bags and accessories line created by two sisters.
One can learn about wood turners like Tony Fredericks of Northern California, and woodworkers like Kelly Roley from Nashville, Tennessee.
Makers Market's reach spans from the coast to coast, to as far as New York, selling brands like Brooklyn Grooming (a maker of apothecary products for men) and Brooklyn Slate (a maker of all-purpose stone serving boards). Be it home, jewelry or personal care products, each page gives the shopper a glimpse into the founding story of each brand. And this mission that clearly transcends retail sales is what has kept Ekman and her Markers Market going strong for nearly a decade.
"Crafts are an important part of any society's culture," she told SFGate. "It's important for us to do whatever we can to keep makers practicing their trade."