Juneteenth: A Road to Unity Press Conference
March 04 2021
Authored by: Dustin Loup • 2 Minute Read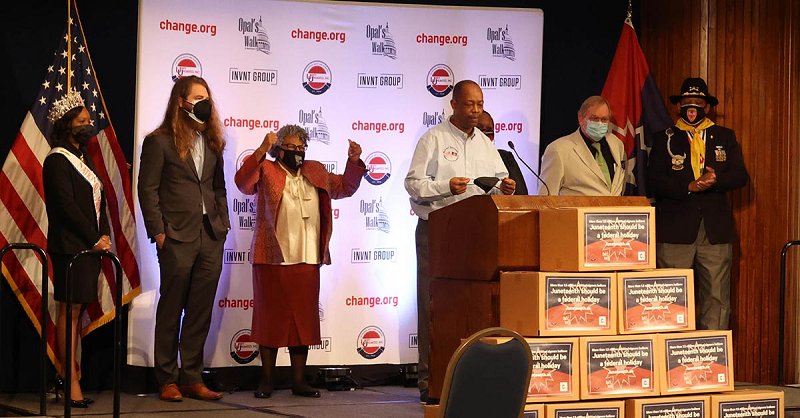 ---
Photo credit: Danny Cones, DC Perspective
On June 19, 1865, two and half years after the Emancipation Proclamation, Federal troops, including the United States Colored Troops (USCT) arrived in Galveston, Texas to announce the end of slavery and ensure that all enslaved people were freed. This day came to be recognized as Juneteenth, a holiday commemorating and celebrating the emancipation from slavery in the US. As of today, Juneteenth is recognized by 47 states and the District of Columbia, but is not yet federally recognized.
Building on long-term efforts, Ms. Opal Lee, the 94 year old "Grandmother of Juneteenth," and oldest board member of the National Juneteenth Observance Foundation (NJOF) returned to Washington, DC on February 25 for a press conference to launch the Juneteenth: A Road to Unity campaign and call for Congress to pass legislation that would establish a national day of observance for this day of independence before its celebration on June 19, 2021.
"The time is now to get on the road to unity and start healing the heart and the soul of our nation that so deeply divided by years of harmful rhetoric and atrocities" said Ms. Opal Lee.
In September 2020, Ms. Opal Lee visited the Capitol to deliver 1.5 million signatures gathered on Change.org to Congress and urge them to pass the Juneteenth National Independence Day Act that was introduced in June 2020. However, the previous Congress did not pass the legislation, meaning that it needed to be reintroduced.
During the press conference, organized by the National Juneteenth Observance Foundation and Unity Unlimited, Senator John Cornyn (R-TX) and Representative Sheila Jackson Lee (TX-18) joined remotely to announce that they were reintroducing bipartisan bills in the House and Senate to establish Juneteenth as a federal holiday.
The hopes are higher than ever that this will finally be the year that Juneteenth gets the national recognition that it deserves as a day of reconciliation and healing.
"Juneteenth can be the unifier that's used to bring this country back together," said Ms. Opal Lee, who started gathering signatures back in 2016 by embarking on a 1,400 mile walk from Ft. Worth, TX to Washington, DC. Her initial goal of reaching 100,000 petition signatures has grown into a movement with the new goal of 3 million signatures.
You can help with this push to get 3 million signatures and more importantly get Juneteenth legislation passed by signing on to the petition at Juneteenth.us.
When asked about the choice of domain name to drive traffic to the petition, President of the National Juneteenth Observance Foundation, Steve Williams said, "Using the .US to promote our Juneteenth petition was a natural choice. Juneteenth.us is easy for people to remember and it indicates what Juneteenth is all about – US as Americans."