How weCultivate.US is Helping Small Businesses Thrive
September 13 2021
Authored by: Kristin Johnson • 3 Minute Read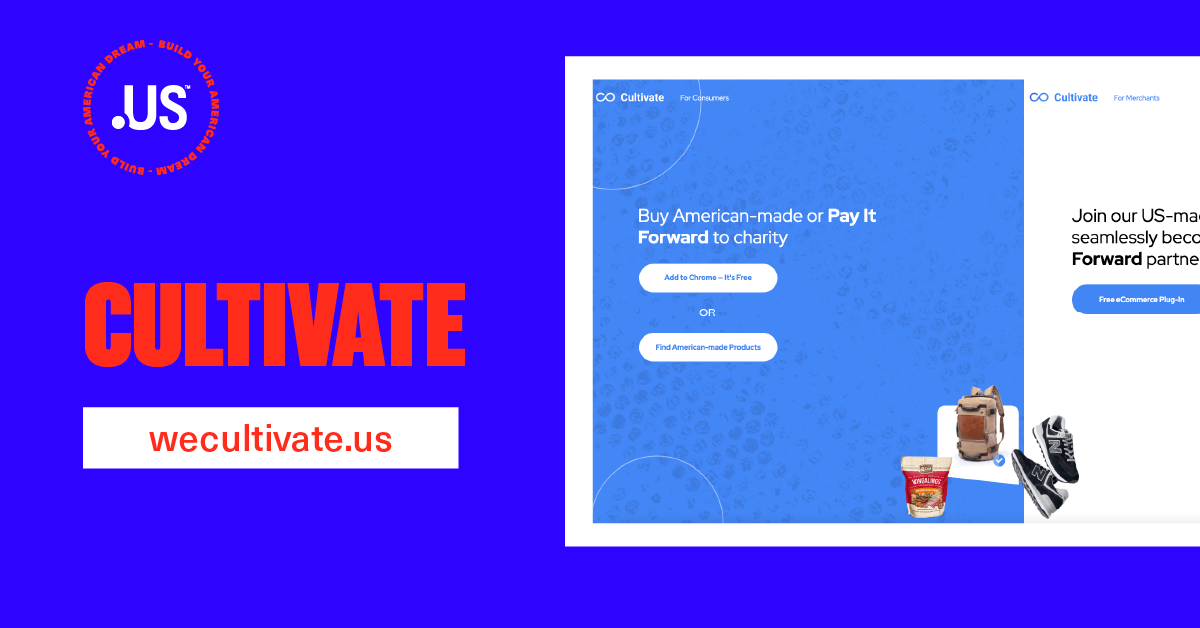 ---
When the pandemic began to pummel the small businesses economy in his own community, Harsh Khurana envisioned a solution to help small shops thrive amid the crisis. "As the Covid-19 pandemic hit, the impact was immediate on jobs and my local area in central New Jersey," says Khurana. "As businesses started shuttering, and friends and family started to lose their jobs, e-commerce marketplaces were thriving. And I started to wonder why small businesses couldn't do the same."
The founder and CEO of Cultivate launched a .US website to give businesses selling tangible goods throughout the United States a fighting chance.
Long before the Covid-19 pandemic, cheaper overseas goods were already posing a threat to American-made products. So Kurana designed Cultivate to give online shoppers the opportunity to automatically view American-made alternatives. For example, if a shopper was searching for a winter jacket on a department store website, Cultivate's downloadable browser extension would provide a shopping guide of American-made jackets available on Amazon.
"Cultivate helps consumers shop American-made products directly from small businesses so we can grow local jobs and economies through impactful shopping," says Khurana.
But Khurana discovered small businesses were up against more than just overseas competition. "After doing a ton of research I quickly realized that small businesses were up against biased algorithms, search engine optimization, and much larger marketing budgets. It's really the biased algorithms that made us build Cultivate," said Khurana. For example, marketplace algorithms will show products from vendors who give them the most inventory to sell so they can generate more sales. If small businesses cannot provide such inventory, they get pushed down the results and lose out on any potential sales. Amongst this, small businesses are also against bad actors and counterfeiters; folks that will copy their products and sell them at a discounted price from a foreign country.
This led him to build Cultivate and launch in July 2020. It puts American small businesses and manufacturing front and center to its users without any biases.
According to Khurana, it is believed that every $1 spent locally can generate a 50% greater economic benefit for our domestic economies yet no easy avenue exists for us to do this, which is where Cultivate steps in. "We've partnered with over 400 merchants and built a database of over 250,000 US-made products to shop," he says.
This isn't the first venture where Khurana took an innovative approach to supporting small-scale makers. Prior to Cultivate, Khurana worked in financial technology building investment platforms for socially responsible investors looking to support companies that believed in ethical labor practices. There's a reason why he has a passion for ethical companies in emerging economies. "My early years in childhood were spent in India as I immigrated to the US in the 90s at the age of 10," he adds. He has also developed finance tools to help Small and Medium sized businesses in the US and UK access loans.
Although Cultivate is less than a year old, it is already gaining steam and has gained high-profile investors like Shark Tank star Mark Cuban.
Says Khurana, "Being able to generate sales for small businesses since July has been the best part of 2020 and going into 2021. We receive messages from our partners of the sales we're driving for them and our users who love our platform for making it seamless to help small businesses and manufacturers."
Although they have hundreds of merchant partners, Cultivate is a small but mighty team of three. "The hardest part of building our business has been not being able to meet our own team in person even once. We've built everything from ground-up while working from home!" He adds, "Additionally, a ton of work goes into our database as there are a lot of bad actors claiming their products are made in the USA but we use various different databases to crosscheck these claims."
And safeguarding American small businesses remains at the core of his startup's purpose, from its brand identity, down to its URL, as Khurana opted for a .US web address. "It flows with our mission," says Khurana. "We Cultivate dot US, literally cultivating growth across the US."
As 2021 has kicked off, Khurana remains optimistic about the future of small business growth online. "We're looking to partner with over 2,000 small businesses by the end of 2021 and showing our users over 500,000 products that are manufactured in the US. We'll also deploy amazing features along the way showing how much impact you're having by shopping locally made goods."
Khurana says his advice to aspiring entrepreneurs and small business owners looking to launch in 2021 is to simply go for it: "Execution over ideas."