How to Pick the Perfect Domain for Your Wedding Website
January 03 2020
Authored by: Kristin Johnson • 3 Minute Read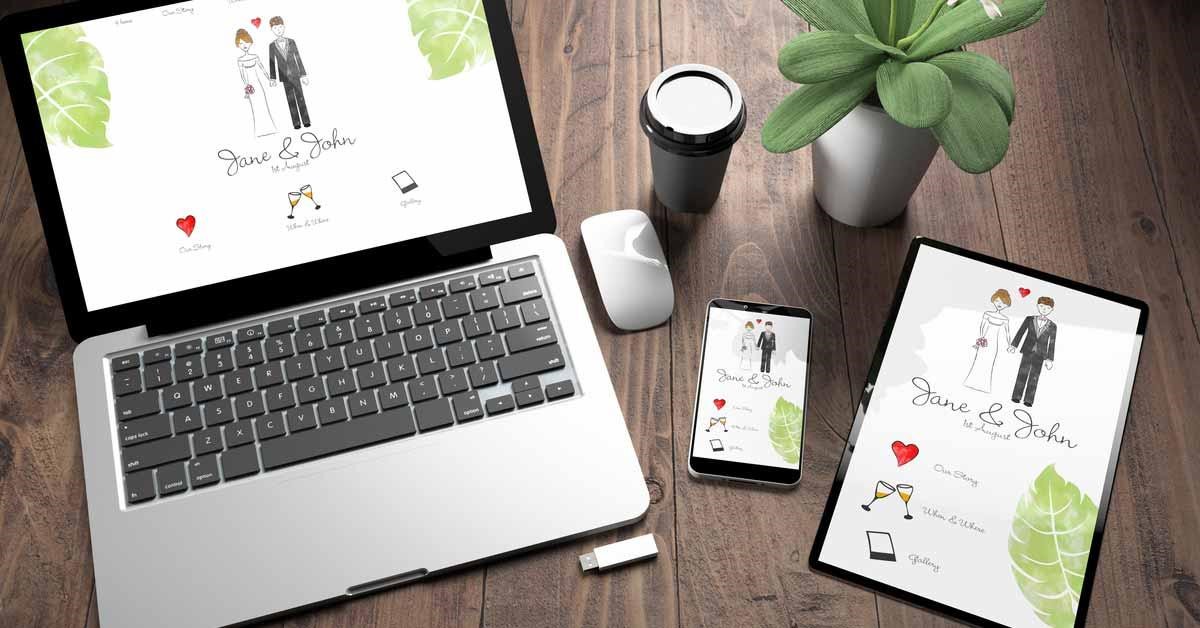 ---
Congratulations—You're engaged! From choosing a date to deciding on your color scheme, it's hard to find a good starting point for planning your wedding. A great place to start, if you're asking us, is creating your wedding website.
Your wedding website is a great resource for your guests. It helps them stay up to date with the details, accommodations, registries and RSVP for the big day. With all of this information on your site, it's important that your website's domain is not only catchy, but easy for your guests to remember and access.
Many couples don't put much thought into the domain name and pick the first one that's available, or they use the URL generated by the website builder which leaves the couple with a long domain that clutters up valuable space on save the dates and invitations. These long URLs are impersonal and difficult for some guests to type into their web browser.
Stand out from the crowd and check out our tips for making your domain as unique as your big day!
Say YES to the (Web) Address!
Format is Key
When creating your domain, there are some practical guidelines that you need to follow. These guidelines include length, pronunciation and spelling. Creating a catchy and simple domain is always a good idea! That way, your guests will be able to remember it, find it on the web and talk about it. Follow these guidelines:
Short & Sweet. The shorter the name, the better. According to best practices, a domain name should be below 20 characters, but can go up to 67.
Easy to Pronounce. Ideally, your domain name is something that people can talk about and say out loud without difficulty.
Simple Spelling. Guests will get confused by weird spellings. They're also likely to forget your URL and type in the proper spelling instead.
Avoid Confusing Text Characters. Remember the advice about pronunciation and spelling? When guests are talking about your website or typing it into their browser, symbols are problematic.
Foolproof Formulas
Making your domain easy to remember is key. If you or your fiance's last name is complicated or difficult to say or spell, you might want to avoid using it or at least abbreviate it in a memorable and catchy fashion (nicknames help tremendously)! To help you out, here are some of our favorite formulas for a simple and memorable domain!
[name]and[name]
[name]plus[name]
[name]loves[name]
the[Lastname]s
So you've come up with your perfect domain name, but now you've hit a bump in the road. The domain is unavailable on your common website extensions like .com, .org or .net. Don't panic! With over 2 million weddings each year, the oldest domain extensions (like .com) are probably already taken. And that's nothing to freak out over.
That's where a unique domain extension comes into play. These extensions allow you to personalize your website's name so it's one-of-a-kind, and you'll have a higher chance of getting your first choice! One of the best extensions for wedding websites is .US. It's personable, bold and memorable! There are so many options available for wedding website domains when using .US for your extension. A domain name like MitchAndCarly.us is timeless, elegant and simply easy to remember or something clever like InfiniteLoups.us, which is a domain your family won't soon forget.
Read: 3 Reasons Why Couples Should Create Their Own URL