How Investors Decide to Invest in Startups
March 09 2023
Authored by: Kristin Johnson • 3 Minute Read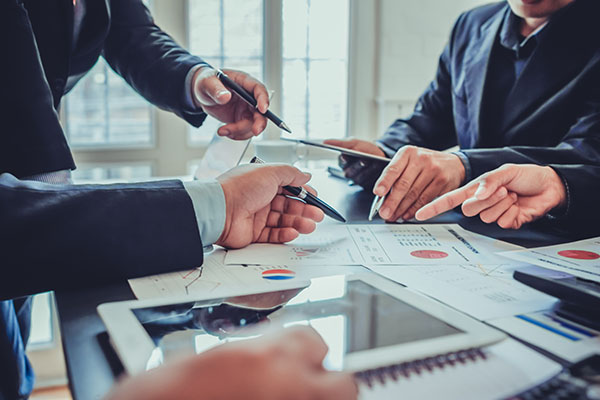 ---
Want to draw funding for your startup? To reel in investors, it's important to understand how they decide whether to take a chance on your company or look elsewhere. Given countless investment options to choose from, investors are forced to carefully pick and choose where to put their money.
But how do they determine which companies deserve to make the cut? Financial backers typically consider the same key factors when it comes to discerning which startups are worth investing in. Here are some of the biggest considerations you should prepare for in advance.
The first—and arguably the most important—is your pitch. In order to get your foot in the door, you need to captivate potential investors even before you meet them in person. Keep introductory emails short and clean, but steer clear from cliches and other tired expressions. Tailor your messages to each investor, taking into account their background and experience. Make sure your pitch deck not only showcases a wealth of credibly sourced data, but is also easy to digest and understand. After all, investors on average spend only two minutes and 30 seconds reviewing a presentation. Ultimately, it's not just about the facts, but how you deliver them. That said, speak with confidence, not arrogance!
On that note, how you come across overall—not just as an entrepreneur, but as a person—will also influence their decision. How likable and reliable you seem matters a great deal—especially in the early rounds of funding, when they have little else to judge you on. Demonstrating good character and having a sterling reputation are vital for attracting and building strong relationships with potential investors. That said, it's important for your partners and employees to also possess and reflect the same traits and values.
Another crucial factor? Your mission. Investors need to appreciate what you're selling. They need to believe not only in the problem you are trying to solve, but also in your unique solution. Your company's core purpose and philosophy must align with their own convictions. Otherwise they won't invest in your business, no matter how likable you are.
Investors, of course, will assess your current online presence. They won't just look at social media platforms and follower counts, they will analyze your product/service, your founder's story and your startup mission are all clearly represented to the public online. So make sure you launch and set up a business website that is prepared for their due diligence. Make sure the content, web design, tone, and voice–everything down to the URL–reflects your business.
The size of the opportunity is significant, too. Many prominent investors won't buy into a deal rooted in a market that they feel is too soft, green, or undersaturated. Be sure to detail the current market state and your company's standing within it relative to its competitors. (Use your findings to outline a game plan for increasing market share.)
Even if an investor likes you and your team and believes in your company's mission, a couple of factors can appear beyond your control. That includes the timing of the market, as dictated by the media, forecasts, the investors' personal finances, and the broader economy. Navigating these unpredictable factors can be difficult, but it's crucial that you anticipate which ones may impact your business and brainstorm ways to resolve each issue well in advance just in case it arises.
Surprisingly an investment partnership isn't just about what you can do for the investor but what the investor can do for you. Whether investors believe they can add value to your company could also matter. While many might only care about how they stand to profit from the deal, some will only sign on if they are confident that their skill set, connections, or resources can help boost your business. And late-stage investors often take into account who invested in earlier funding rounds—and who's leading them.
It's important to keep in mind that seasoned investors are not just backing a business idea, but the person behind the business. Investors must have a firm belief that the founder and/or CEO can lead the company to greatness, and ultimately deliver returns on his or her investment. So be sure to communicate that when it comes to the future and growth of your business, you are a risk worth taking.