How CivicCommons.US Is Creating a New Model for Urban Revitalization
July 10 2023
Authored by: Kristin Johnson • 8 Minute Read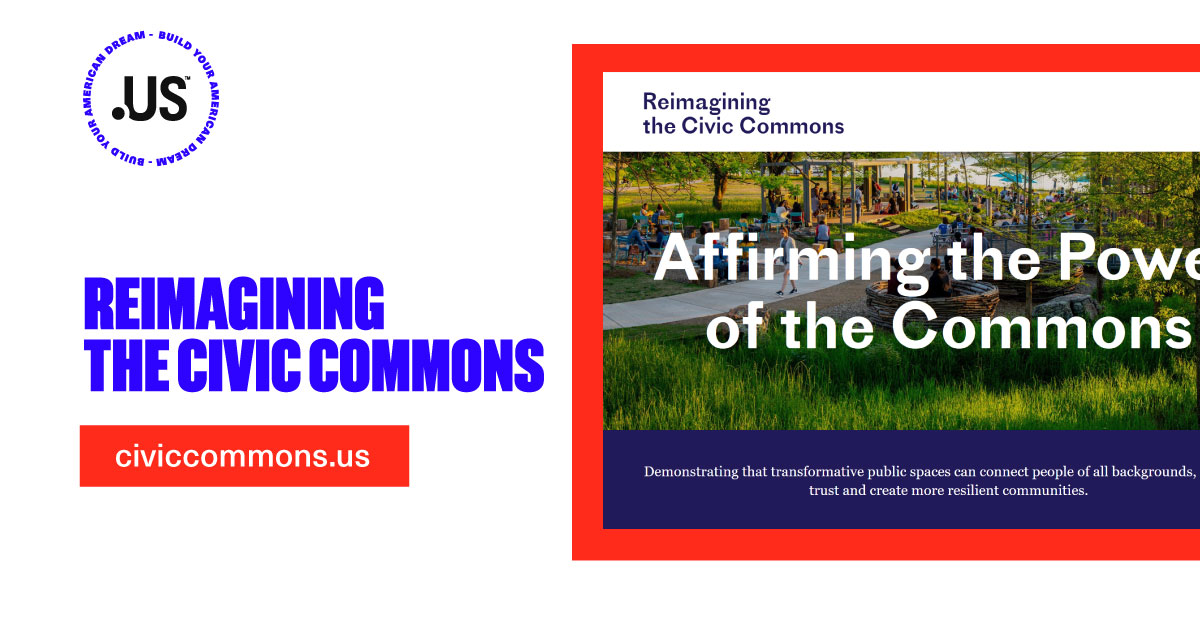 ---
When Reimagining the Civic Commons was tasked in 2016 with revitalizing public spaces across the country, it started with just five cities: Chicago; Detroit; Philadelphia; Memphis, Tennessee; and Akron, Ohio.
And in Detroit, the initiative zeroed in on a district that was in a decades-long decline. "The work primarily took place in Fitzgerald, a majority Black neighborhood on the city's northwest side that was experiencing significant disinvestment and vacancy …", says Bridget Marquis, director of Reimagining the Civic Commons. The national initiative supports cities across the country to transform public spaces—including parks, libraries, and community centers—in ways that create positive social change. The initiative is a collaboration of The JPB Foundation, the John S. and James L. Knight Foundation, The Kresge Foundation and William Penn Foundation.
When Civic Commons got to work in Fitzgerald, overgrown lots were transformed into parks and community gardens, while recreation spaces were reimagined for local youths. Rundown commercial areas were revived with new retail projects with an emphasis on storefront design. Soon the district was blossoming with bike lanes, new lighting and street-side plantings and gardens. "Today, where there once were vacant lots and commercial buildings, there is now a beautiful park, a greenway, thriving meadows and an active main street," notes Marquis.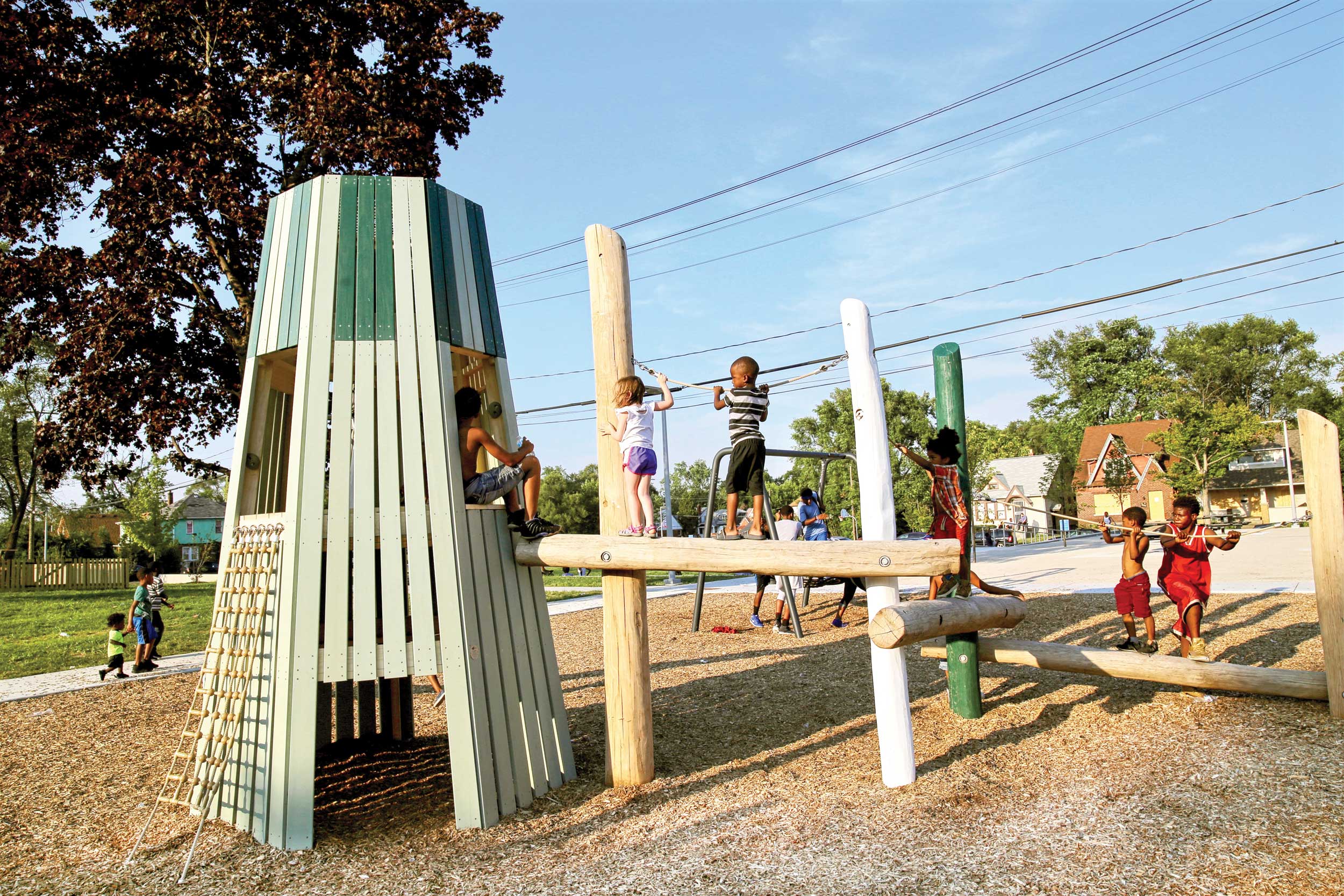 Ella Fitzgerald Park in Detroit, Michigan (Photography: Greg Siemasz for Earthscape)
With Detroit and the other four demonstration cities, Civic Commons has created a new model of community development. Its website is a hub for resources, storytelling and conveying its mission to anyone who wants to replicate its revitalization model. Marquis says her team opted for civiccommons.us as the organization's official web domain for a reason: "With the geographic focus of our work and its values, a .US domain felt appropriate. Our initiative focuses on cities in the U.S. and aims to address the pressing problems our country is facing."
The organization has since signed on new expansion cities including Miami, Minneapolis, and Macon, Georgia. Today, the initiative has grown to a total of 12 cities. Here, director Bridget Marquis shares more about the inner workings of Civic Commons, how its collaborative approach has worked in other districts, and its mission to breathe new life into other cities across the country:
Can you describe how your organization operates behind the scenes?
Our network brings together hundreds of people working to transform their community's public spaces. Reimagining the Civic Commons was founded on the belief that public spaces have the power to connect people of all backgrounds, cultivate trust in one another and our institutions, and create more resilient communities.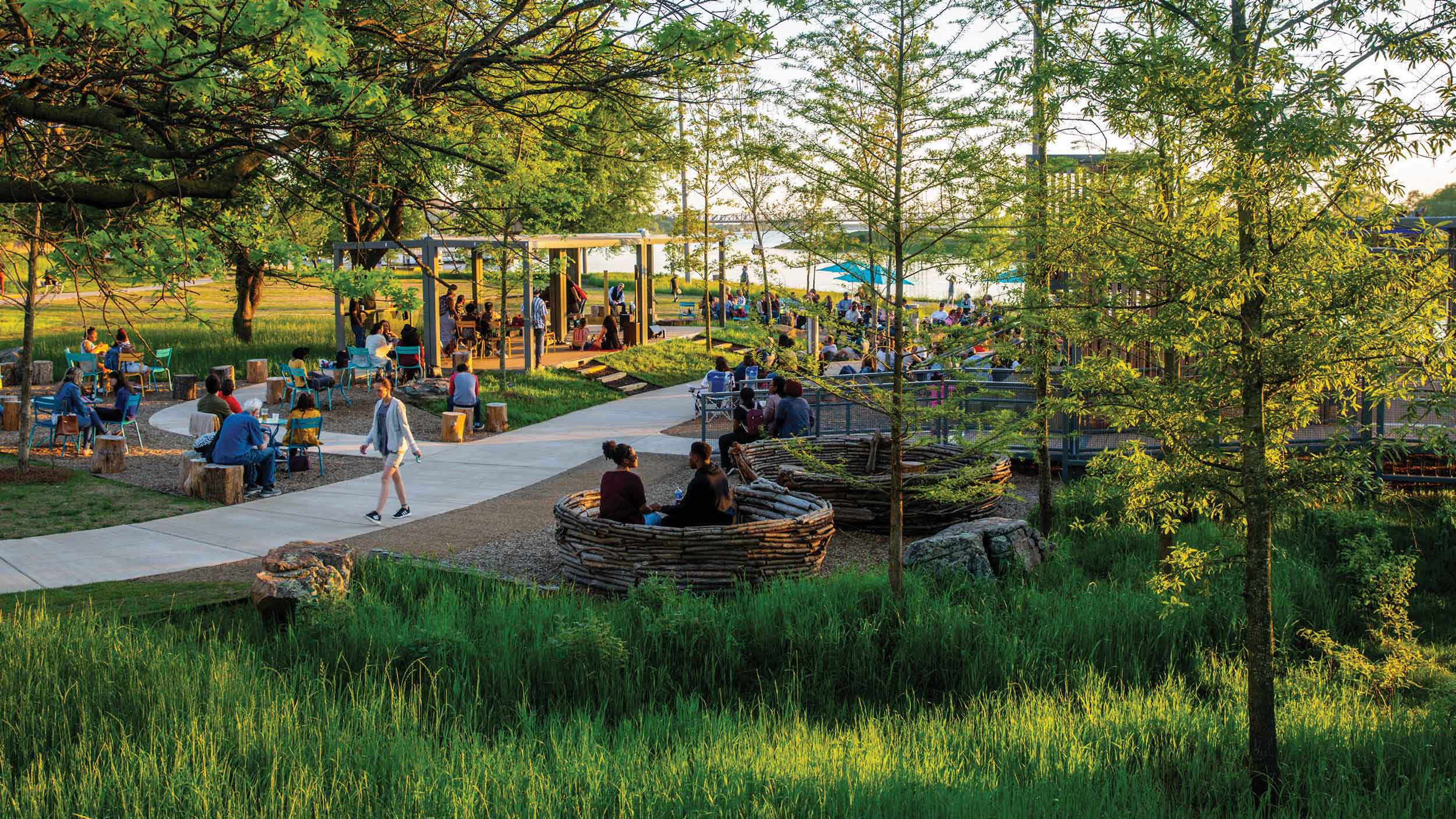 Caption River Garden in Memphis, Tennessee (Photography: Memphis River Parks Partnership)
In each city, collaborative teams are transforming how they design, program and manage public spaces. Although each city has its own approach to reimagining local parks, trails, libraries, recreation centers and other public assets, we serve as a guide by providing a framework that helps cities evolve their way of working. Rather than manage public assets individually, each city is encouraged to manage them as a portfolio. The four outcomes of Reimagining the Civic Commons — civic engagement, socioeconomic mixing, environmental sustainability and value creation — serve as each city's North Star.
Finally, practitioners in all 12 cities participate in the Civic Commons Learning Network, a national collaboration that brings together practitioners, policymakers, advocates and residents to share knowledge and support one another as they transform how they design, manage and operate public spaces.
Seven years in, we are seeing many inspirational results.
What motivated you to take the first step in launching your organization?
Two major factors. First, we were witnessing some worrying long-term trends. Across the U.S., communities were becoming more segregated by income, social isolation was on the rise, and trust was in decline. Climate change was becoming more urgent. Challenges like these were and still are harming communities and our nation.
Second, many cities were underestimating the potential for public spaces. Public spaces were generally seen as liabilities on city balance sheets, when they could contribute solutions to local issues.
We started Reimagining the Civic Commons because we believe public space has a role to play in addressing these challenges. It can counter social isolation and segregation by bringing diverse people together. It can counter disenfranchisement and distrust by nurturing civic participation and public life. It can counter climate change by creating green spaces and supporting activities like walking and biking.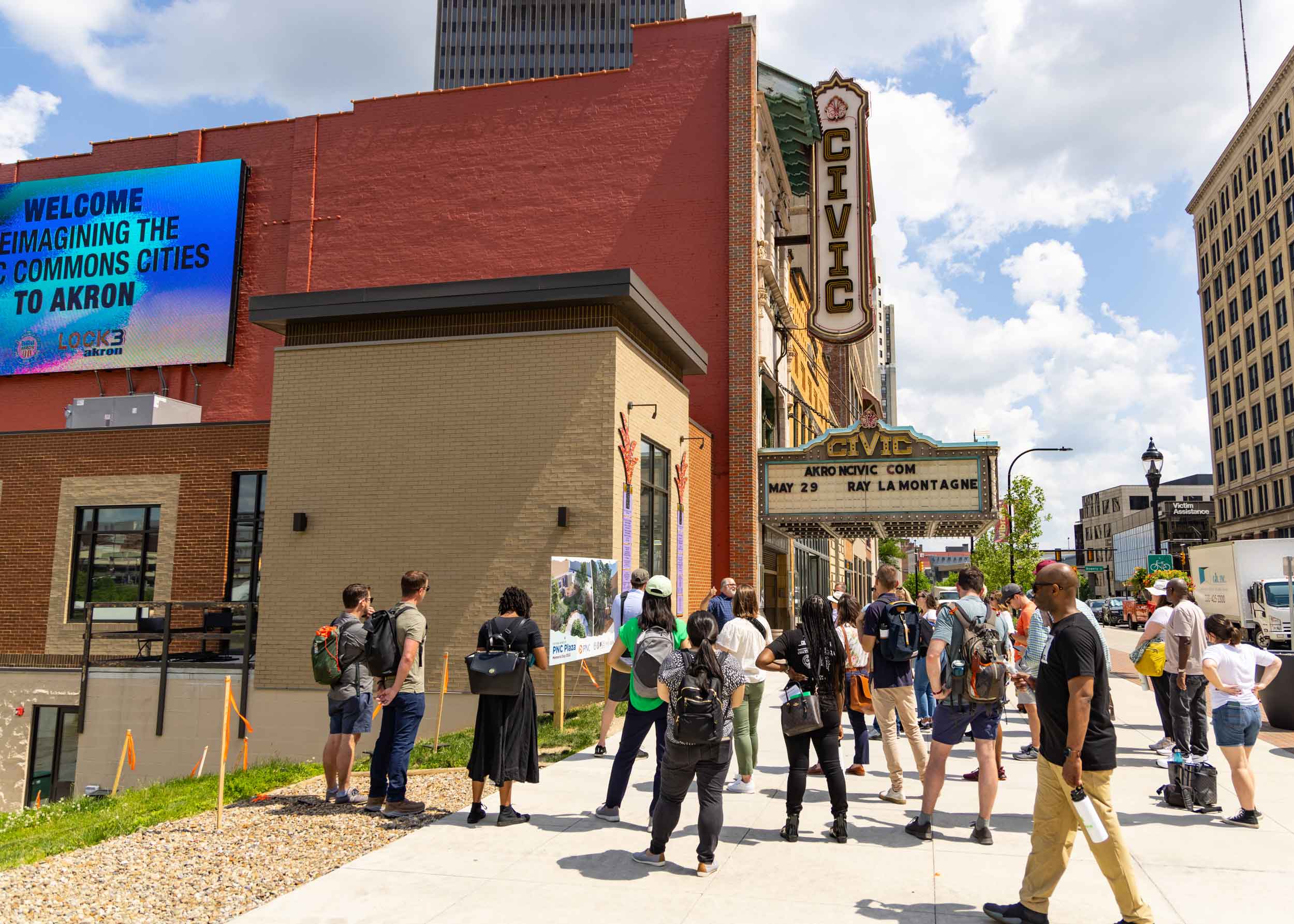 A Civic Commons Learning Journey to Akron (Photography: Tim Fitzwater)
What's keeping other cities from experiencing the same level of revitalization?
Cities need to shift from seeing their public spaces as standalone assets to seeing them as a portfolio. They need to plan their investments with social, economic and environmental outcomes in mind. And they need to stop working in isolation and instead work together.
What was one of the hardest or most unexpected obstacles you had to overcome to get your idea off the ground?
We first tested the initiative in Philadelphia. We learned that cities wanted a playbook for how to design, manage and program public spaces. From this lesson, we created the Civic Commons Learning Network, which brings together people from all 12 cities and provides opportunities for impact assessment and elevation through storytelling. The network has become a wellspring of ideas to make good on the promise of public space transformation.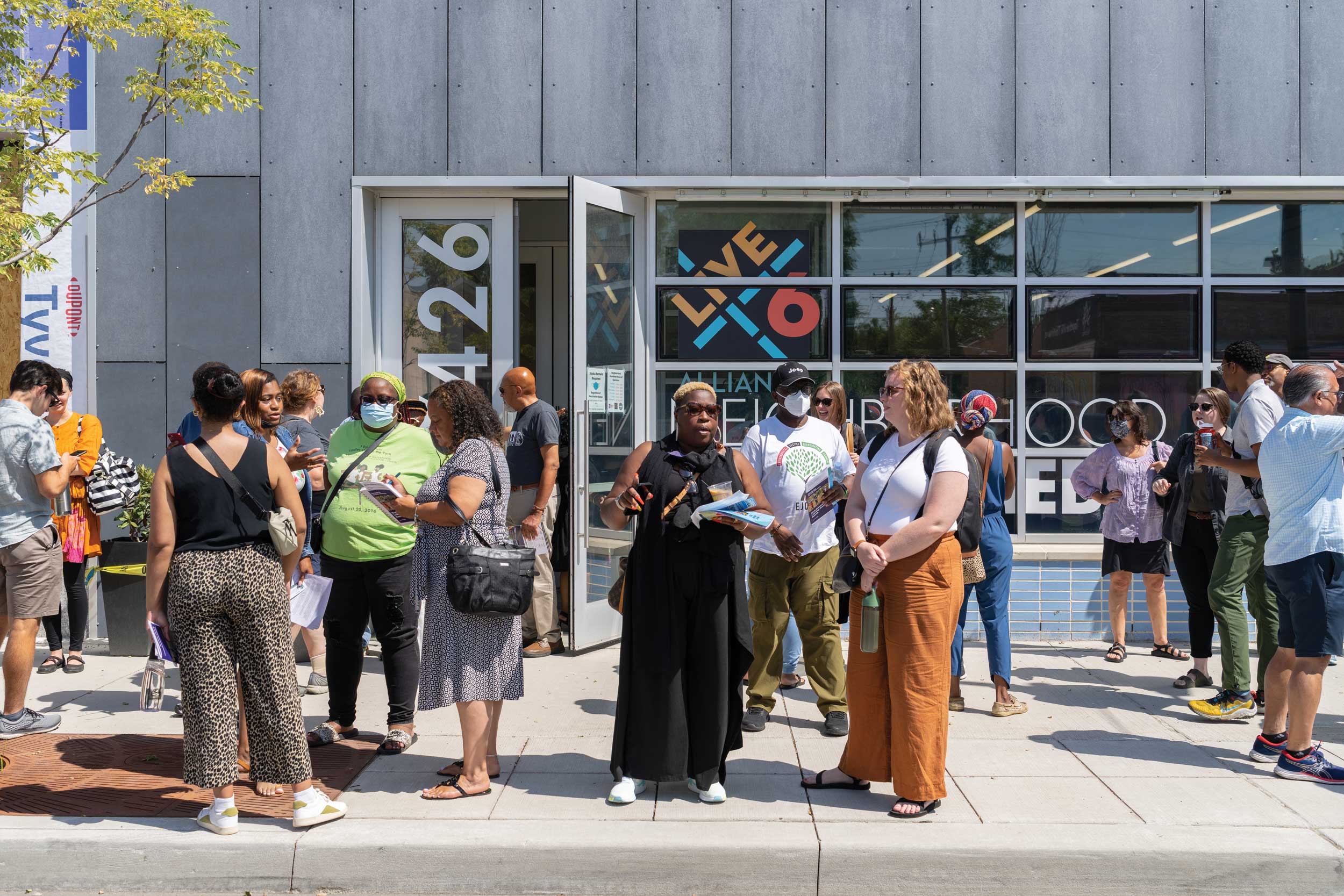 The Civic Commons Learning Network gathers at Home Base in Detroit to learn about the work (Photography: Nadir Ali)
Tell us about a turning point or a moment you are particularly proud of in your initiative's journey.
Our work in the Summit Lake neighborhood in Akron, Ohio comes to mind. In the 1900s, urbanization, manufacturing and industrial dumping left the lake polluted. Also in the 1900s, highways and other development left Summit Lake isolated from other neighborhoods as well as educational, shopping and employment opportunities.
When Akron Civic Commons began, many community members, including Starleen Saulsberry, who later wrote about her experience for the local paper, were skeptical that anything would change. In Starleen's words: "My first thought was: 'Here we go. A bunch of professionals are coming in to tell us what they are going to do. They don't care about Summit Lake and low-income people's wants or needs.'"
Residents at a meeting shared their ideas and concerns, many of them not expecting anything. But a few months later, a trailer with bikes, helmets and a huge barbecue grill showed up, bringing to fruition ideas suggested by community members. More improvements followed, including a beachhead, wooden porch swings, grills, picnic tables and umbrellas. Today, Summit Lake Park offers canoeing and kayaking, fishing, community gardens, cultural programming, a farmers' market and a nature center. Spurred by the success of Akron Civic Commons and supported by $10 million in new investment, a trail is being built around the perimeter of the lake to reconnect the adjacent neighborhoods.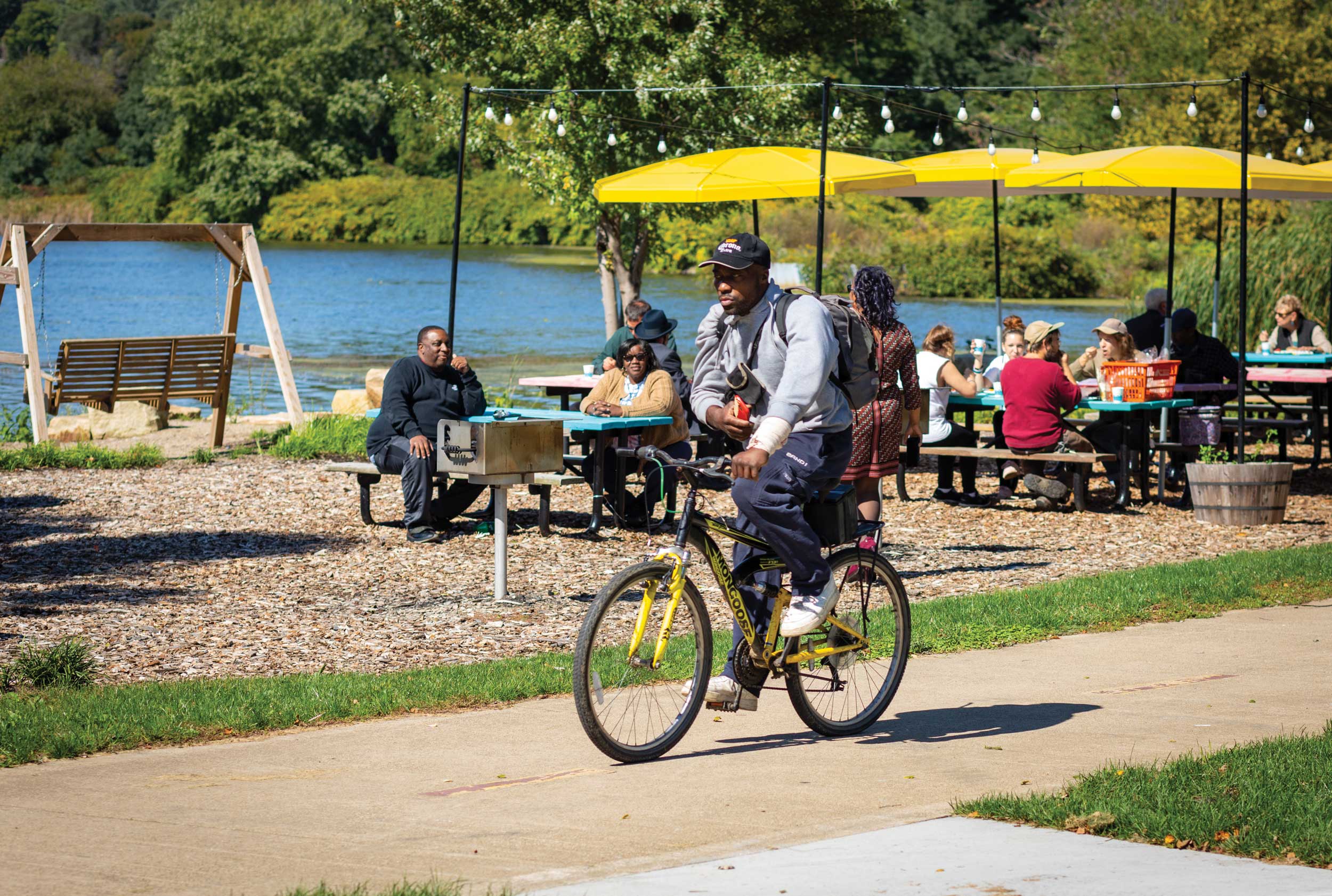 Summit Lake's beachfront park in Akron, Ohio (Photography: Tim Fitzwater)
When Starleen shared her story, it felt like a turning point for me. She and many of her neighbors became believers in civic engagement and their own power to affect change.
Any advice you can share for someone thinking of getting their own mission-driven idea off the ground?
Be willing to pivot and be responsive to local conditions. For example, our Place Driving Equity guide was developed by a group of practitioners in the field during the first year of the pandemic and after the murder of George Floyd, when the role of public space in advancing shared prosperity became urgent. We were not able to bring the network together in person, so we hosted virtual group sessions to develop an action guide that communities could use right away.
What other reasons inspired you to choose the .US domain for your website?
In addition to improving cities across the United States, the idea of "us" comes through in the domain. At CivicCommons.US, we believe that these public spaces, where we encounter people who are different from us, can and should be places of beauty and joy. With all of us working together, we can build a better country, one public space at a time.
What's next for Reimagining the Civic Commons?
We want to share what we've learned with even more people and bring more communities into our movement. We recently published The Power of the Commons, a report on the first six years of innovation. This is one way we're reaching more people who may be interested in bringing our ideas to their cities.