Heritage Steel is Helping Us Rethink How We Shop for Cookware
March 20 2023
Authored by: Kristin Johnson • 8 Minute Read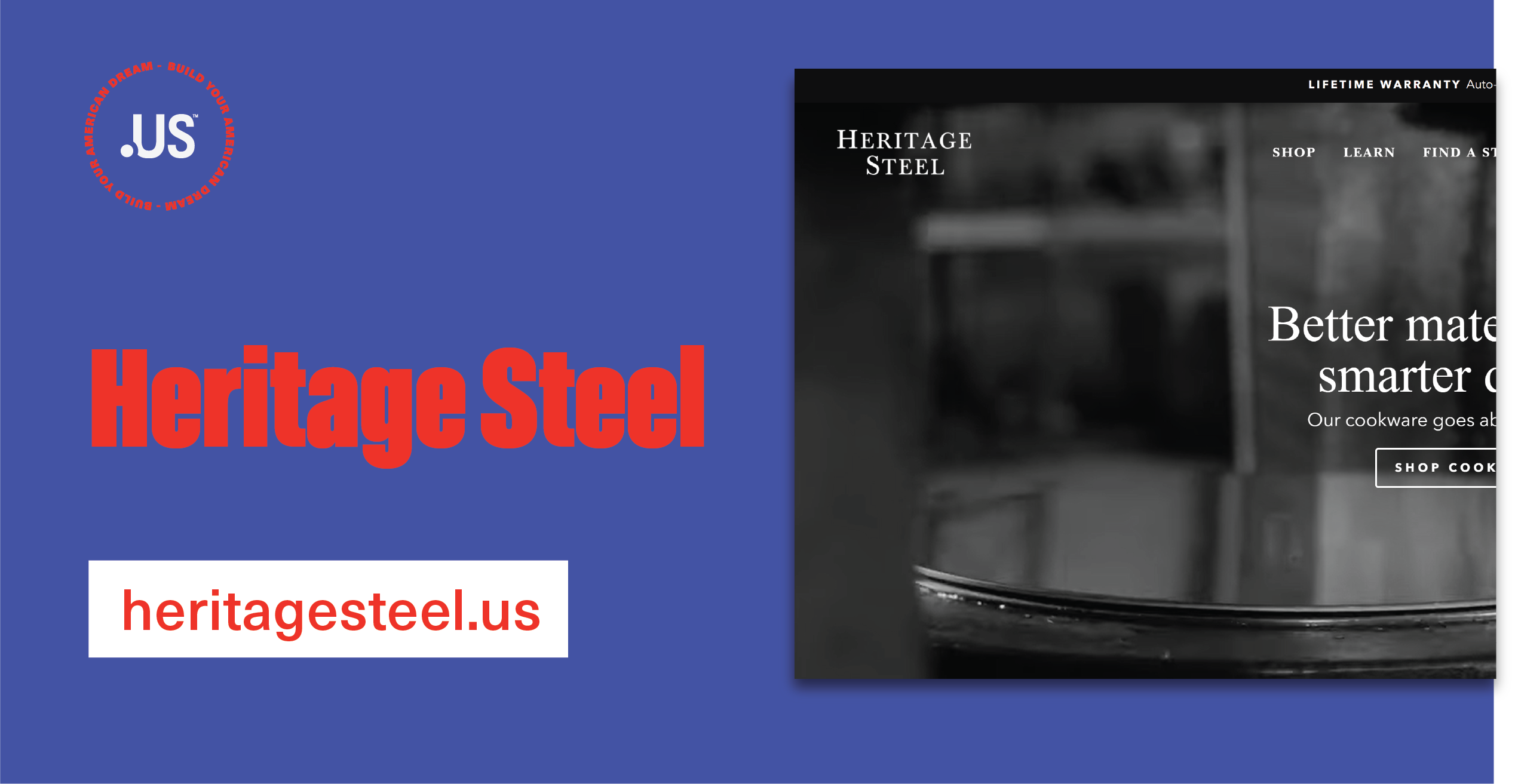 ---
When we build our wedding registries, or start fresh at a new home, filling our kitchen with new cookware is usually a priority. Yet we forget how cookware, cutlery, and other kitchen products aren't just pots, pans, and knives—but heirlooms that contribute to our memories in the kitchen.
Whether you're a professional chef, a parent who cooks meals for loved ones, or a foodie aiming to recreate the best recipes at home, the right cookware plays a role in how we achieve these goals. Think about it: The right cookware helps ensure we cook our meals correctly, and helps us avoid kitchen nightmares that involve sticking, messiness, and even burning. Cookware contributes to the taste and presentation of what we serve on the table each day.
Danny Henn is part of the third generation of family ownership of Heritage Steel, and wants consumers to take a mindful approach to how they shop for cookware. "My grandpa started the company about 40 years ago and we've always been dedicated to building only the highest quality stainless steel cookware," says Henn. "Manufacturing in the USA is a core part of our company's identity. While it's quite a challenge to keep manufacturing here in the US rather than outsourcing abroad, we're committed to making it work because of the quality control we get over the final product."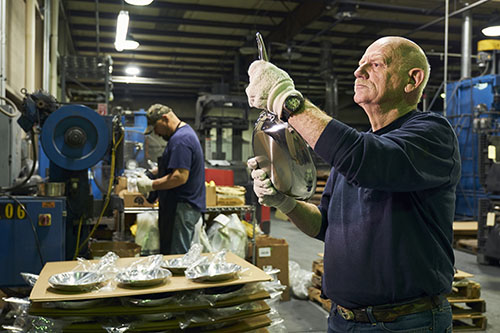 But too often, shoppers opt for low-quality pans that are within arms' reach at budget stores. Unfortunately, these items are usually made with harmful chemicals like BPA, PFOA, lead, cadmium, and more. According to Henn, investing in quality cookware not only plays a role in health and safety, but sustainability, our household carbon footprint and overall quality of life.
A browse-through HeritageSteel.us shows that in addition to long-lasting goods, the company values producing cookware that is beautifully designed, with modern silhouettes that look elegant on your stovetop, adding to home decor and vibe. The website not only details the history of his grandfather Donald Henn, formerly a traveling salesman, cofounding the company with John Martelli, a former local manufacturer, but also pays homage to its current workforce of 30+ employees. "We're proud to be able to keep good paying manufacturing jobs at our factory in Clarksville, Tennessee," adds Henn.

But, most importantly, the website serves as a resource for those aiming to educate consumers on the art of selecting high-quality cookware. From a quiz on how to update your kitchen, to a Knowledge Center on how to shop. Last but not least, Heritage Steel's e-commerce is also used as a hub for customer appreciation, where a message from Henn is prominently displayed:
"It can be challenging to be a small-scale, quality-obsessed manufacturer in today's world. Your support makes it all possible. So a heartfelt thank you from me."
-Danny Henn, Donald's Grandson
In this Q&A, Henn shares more about Heritage Steel's past, present, and future—and how its online hub helps share the company's rich history, and guides the consumer to better cookware. He also further details how opting for high-quality cookware can elevate one's quality of life in the kitchen and beyond.
---
Tell me about yourself and how you started working for your family business.
My name is Danny and I live in Oakland, CA with my partner Haley and two cats Kimchi and Sprout.
After spending a couple of years after college working in a typical corporate type job, I figured I might be able to have a larger impact in helping out at the family business. Given that I'm a big fan of cooking, it was a good fit!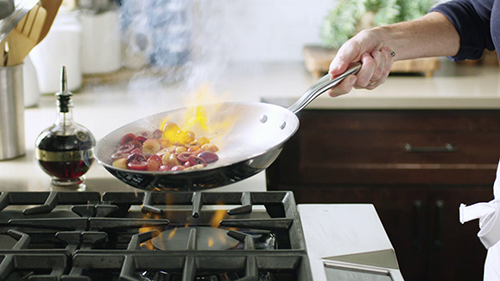 How many members of your family work for the company?
It's me, my father, Jeffrey, and my Grandpa Don. Don founded the business in 1983 working with John Martelli. I'm the most involved day-to-day with the business but we all contribute in different ways depending on our strengths and experience.
Tell me about your company's ties to the local community, given that you've been based in Clarksville since 1983.
We're proud that a significant portion of our team at the factory has been working with us for 20, 30, or even 40 years. Our current plant manager has been working with us for over 20 years and his son also works part time with us.
Where can we shop for Heritage Steel products?
We've partnered with a really broad array of around 200 local independent kitchen stores across the country. Often these stores have long histories in their communities and are known as the trusted experts when it comes to kitchenware. We do our best to partner with the small businesses out there because support for small businesses are really what keeps us going as well.
Tell us about the overlooked risks of buying low-quality cookware.
By far the most popular type of cookware out there is nonstick coated aluminum. It's cheap and made overseas, and people have been taught that the convenience of nonstick is something that they must have in their kitchen. We try to teach differently.
Regardless of any possible health effects that these non-stick chemicals may have over the long term, cookware that relies on these coatings simply aren't designed to last. While that might be good for the manufacturer (you've got to keep buying it over and over), it isn't good for the customer, and it isn't sustainable.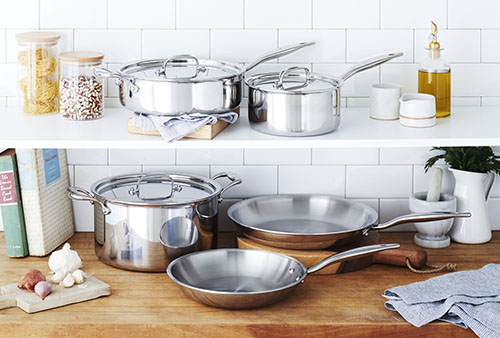 Why was it important for your company to create a Cookware Knowledge Center on your website?
Education is key. There's lots of different kinds of cookware out there, and knowing the main differences among them isn't always straightforward. In our blog, we drive home the 5 rules of good cookware, which boils down to two principles. Effective cookware has two main attributes:
Even & Efficient Heating
Chemically Inert & Durable
The art of cooking with stainless steel cookware can also be daunting. It does have a bit of a learning curve, but once you understand how it works, you get great results. Meanwhile our Care & Use instructions help make these items last a lifetime.
Discuss Heritage Steel's digital history. When did you first launch a website, and how does .US reflect the Heritage Steel brand?
We've actually been selling stuff online since around 2008, but cookware was not our focus at the time. In 2019, we embarked on a rebrand of the company to the Heritage Steel name. Part of that effort was transitioning to the heritagesteel.us domain. We valued the specialized .US extension because it gives us another way of reinforcing our Made in USA identity. We want the Heritage Steel name to be synonymous with high quality US manufacturing, which is why the nonstandard, alternative domain made sense. It just gives another way of reinforcing that messaging in the mind of the customer.
I love the timeline and photos on the About Us page. Describe how running a small business website helps you share the Heritage Steel story
People love to hear our story and generally like to support small batch, high quality manufacturers like us. Telling our story and showing our manufacturing process through our website is a great way to deepen that connection with our customers.
Your business must have experienced so much throughout its 40 year history. What was a recent obstacle you've overcome?
So much of the global supply chain is designed to fit best with the BIG players out there. So being a smaller scale manufacturer comes with a lot of sourcing challenges, especially when we have such high standards and niche requirements for our materials. This became especially hard during the pandemic, resulting in some difficulties with material shortages. But gladly we're in a much better spot now and we're very happy with the cookware that we're manufacturing.
And I'm sure you experienced many, many rewarding moments. Tell us about a recent milestone or victory.
​It's really rewarding to hear from our customers! We get people that write to us about their cookware that they bought often 20 or more years ago that they still use and cherish every day. And we get great reviews from new customers who are pleasantly surprised at just how well our cookware performs.
What's your favorite Heritage Steel product and what is your favorite dish to prepare in/with it?
A favorite is too hard! But I can say what I use most often. I've been using one of our 10.5" fry pans for fried eggs just about every morning for about 10 years now. It's super reliable and rarely leaves our stovetop.
What's next for Heritage Steel?
We're mostly just hoping to get more pans in the hands of home cooks!
We continually refine our manufacturing operations and educate people around how great cooking with high quality stainless steel cookware can be. We hear constantly from our customers how happy they are to be able to support a company that offers high quality products that are made in the USA; now we're just focusing on getting that message out to more people! Sharing our story on HeritageSteel.US helps us do that.