Checklist for Starting Your E-Commerce Business
October 09 2022
Authored by: Kristin Johnson • 5 Minute Read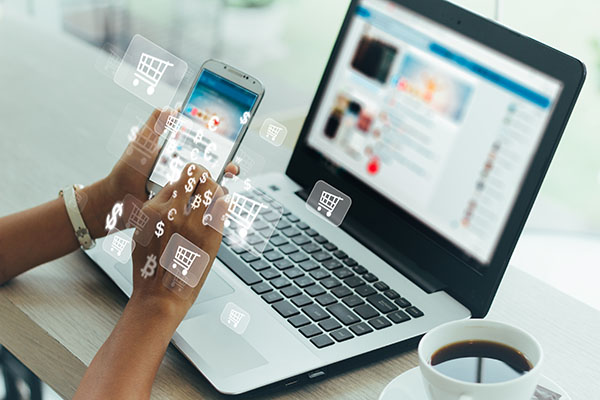 ---
After putting in months of hard work into building and designing the business website of your dreams, you're just about ready to go live with your first ecommerce website.
While it's a thrilling milestone, this phase can come with a dose of entrepreneurial stagefright. Arm yourself with ecommerce confidence by running through a trusty checklist before launching your online store.
It's important to remember that these days, small businesses have all the online tools and knowledge needed to run a successful ecommerce right at their fingertips, thanks to so many blogs, apps and platforms designed for entrepreneurs. You can make sure you've covered all the bases to make sure you're about to launch a professional and functional website.
Here are the essentials to keep in mind:
Do you have the right look?
Make sure your website displays all the right design elements such as typography, colors and graphics. If you think it's lacking in pizazz, there are an array of free resources that can help you easily create beautiful banners, logos and graphics, such as Canva, Crello (now VistaCreate) and Easil, to name a few.
Have you added all your sales channels and social media profiles?
From shopping features on Facebook and Pinterest, to online marketplaces like Amazon, make sure your ecommerce connects to all the right retail channels and vice versa. It's important to know your target customer, where and how they shop online. Is your typical buyer a Millennial who browses Instagram and TikTok for all the latest styles? Or a Baby Boomer seeking deals on eBay? Meet your customers where they are. Check all your Buy and Checkout buttons to make sure they work.
Double-check your social media accounts.
If you haven't created the appropriate social media accounts for your physical shop yet, you absolutely want to make sure you create them for your ecommerce. Make sure you link to your e-commerce in your profiles in order to give customers the opportunity to learn more about you and your product offerings.
Did you optimize your website?
SEO (search engine optimization) can make or break a small business, especially local shops. Making sure your website is optimized with the right keywords related to your product or service can increase its visibility in search engine rankings. Do a final walkthrough of your website and add relevant keywords to your product headlines, descriptions, blogs and more. Make sure your images are also optimized for SEO with the right file names and descriptions.
Do you have the right domain?
Good SEO starts with the right web address. Strive for a URL that is easy to spell, memorable and matches your company name. To make sure your web address does not stray from your company name, explore alternative domains. For example, if you own the Brooklyn Shoes boutique, but brooklynshoes.com is taken, look into brooklynshoes.us. This can boost your brand awareness and allows you to create the exact web address you want.
As a domain extension that has been crafted specifically for retail and eCommerce, a more tailored URL extension, such as a .US site, not only allows you to execute your idea but can help you indicate what you do and what your customers can expect on your website.
Did you set up a fast and easy checkout system?
Making sure all transactions made on your website are safe and seamless is a key part of UX, as well as customer service. Offer as many payment options as possible, ranging from major credit cards, to more innovative and automated payment systems like Apple Pay and Google Pay.

Are you mobile-friendly?
Your website looks excellent on a desktop, and loads and works just as it should. But make sure to check out your website on tablets and smartphones. Does everything still hold up? Make sure mobile audiences also have access to easy navigation and checkout features. Make sure the images load easily, and that the flow and format is still framed properly on all mobile devices. It would be unfortunate and a customer service headache if crucial information about a product or store policy was cut out of frame on a smaller mobile screen.
Is it designed to serve your customers?
There should be a contact us page, with a contact form or a listed number or email address should a customer have any questions or concerns. Make it easy for them to contact you. Anticipate their questions and needs and answer them up front with a Frequently Asked Questions section. Be transparent about any shipping fees or return policies.
Double check your tax and shipping settings.
Are your shipping costs appropriate for the types of products you sell, and are those costs clear to you and your customers?
When it comes to tax settings, depending on where you or your customers are based, you might have to add or adjust sales tax. To play it safe, work with an account who is familiar with small businesses and taxes in your city.
Does your ecommerce reflect your brand?
Use your site as an opportunity to connect with customers and develop a personal relationship, rather than just a transactional relationship. In addition to selling your goods online, you can use your business website to share your brand story, highlight what makes you a leader or expert in your industry, and the role your business plays in the community. Share your startup mission on the About Us page, and most importantly, you can convey why your product or service is better than the competition.
Have you installed an analytics tool?
Famous business thought leader Peter Drucker once said "You can't improve what you don't measure." While the idea of viewer stats, analytics and KPIs might sound intimidating, it's important to track online performance from the start. Google Analytics and Adobe Analytics are among the most popular and easiest to use analytics tools. It's best to track performance on a daily, weekly and monthly basis.
Does your ecommerce company have a dynamic blog?
To deepen that relationship with your customers, consider creating a company blog that shares your knowledge in a specific topic or what excites you as a business owner. Your expertise and dedication to enlightening and connecting with your customers will speak volumes about your brand.