A Wedding Domain Your Family and Friends Can Remember
December 22 2017
Authored by: admin.US Team • 6 Minute Read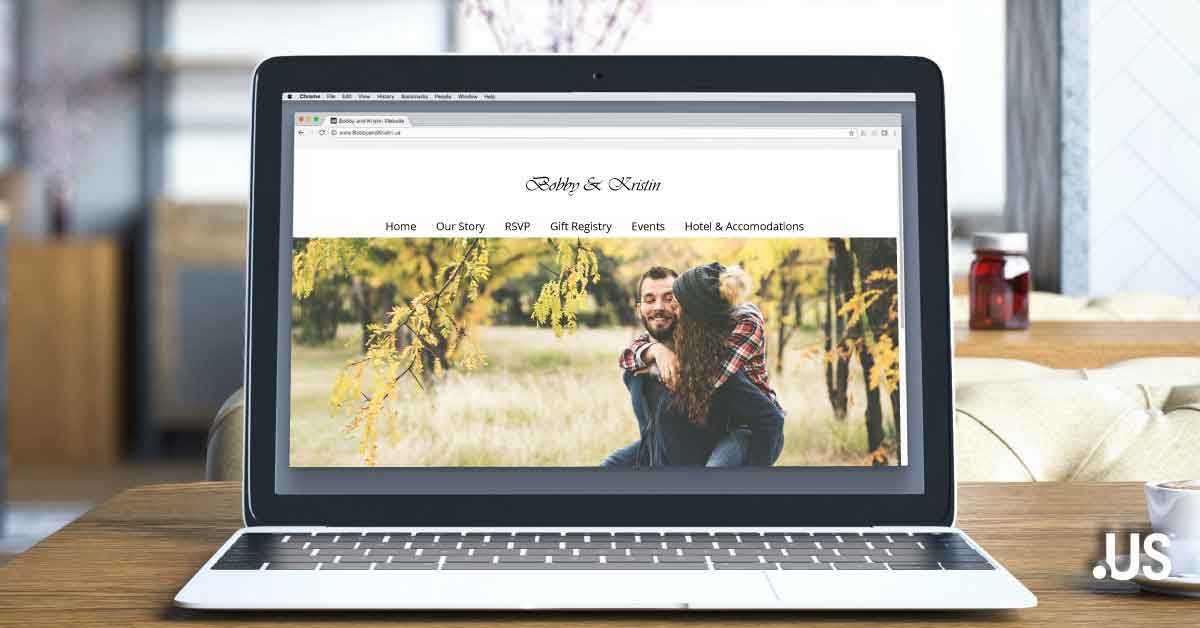 ---
Congratulations! You just got engaged. Now it's time to get down to the real work of planning your big day, starting with your wedding website so that you can keep everyone informed about your progress.
Since you'll be sharing your web address everywhere—on stationary, in emails, and after the wedding to publish photos—it's important to get it right. After all, along with your invitations, your website will be the first (and lasting) impression guests have of your wedding.
However, many couples don't take the time to create a special domain. Instead, they register the first one that comes to mind. Worse, some couples settle for the long URL that's generated by their website builder. The problem is that long URLs like "http://www.freeweddingwebsites.com/jenniferandmark" just don't feel classy. Plus, typing them can get complicated for older guests.
To help you save time and avoid some rooky mistakes, we've put together this handy guide for selecting the perfect web address, as well as choosing a wedding website builder that'll work with it.
Ready now? Reserve your personal wedding domain here.
Tips for the perfect wedding domain
Pay attention to format
When creating your domain, make sure to follow some practical guidelines around length, pronunciation, and spelling. It's a good idea to create a domain that's catchy and simple. That way, your guests will be able to remember it and talk about it. These are good guidelines:
Keep it short. The shorter the name, the better. According to best practices, a domain name should be below 20 characters, but it can go up to 67.
Make it pronounceable. Ideally, your domain name is something that people can talk about and say out loud without difficulty.
Watch your spelling. Guests will get confused by weird spellings. They're also likely to forget your URL and type in the proper spelling instead.
Avoid hyphens, numbers, and ampersands. Remember the advice about pronunciation and spelling? When guests are talking about your website or typing it into their browser, symbols are problematic.
Make it readable and memorable
Your goal should be to make your domain as easy as possible to remember. If one or both of you have complicated last names that are difficult to say or spell, you might want to avoid using them. Here's are some tried-and-true formulas:
[name]and[name]
[name]plus[name]
[name]loves[name]
The[Lastname]'s
These are great examples of the above formulas in action:
jessandruss.us – This is domain is easy to read, simple to remember, and will look great on stationary and emails.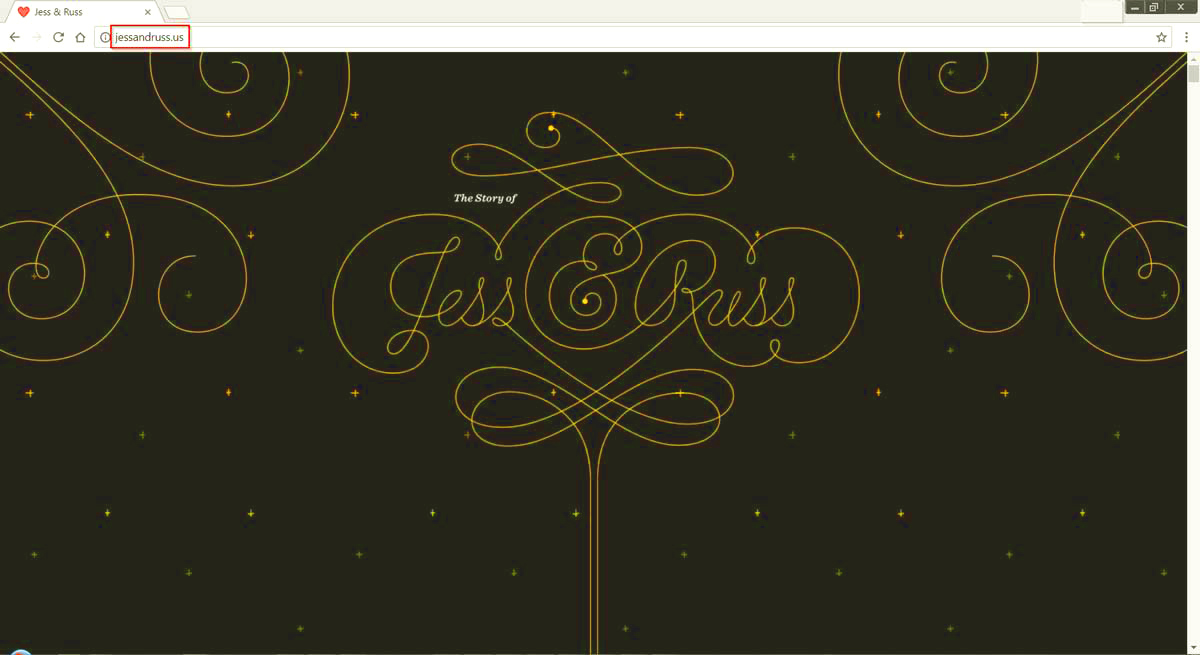 thekowalskis.us – What's great about this address is that is can be used long after the wedding is over. Many couples are now converting their wedding websites to family sites where they keep friends and family updated about married life, children, and holidays.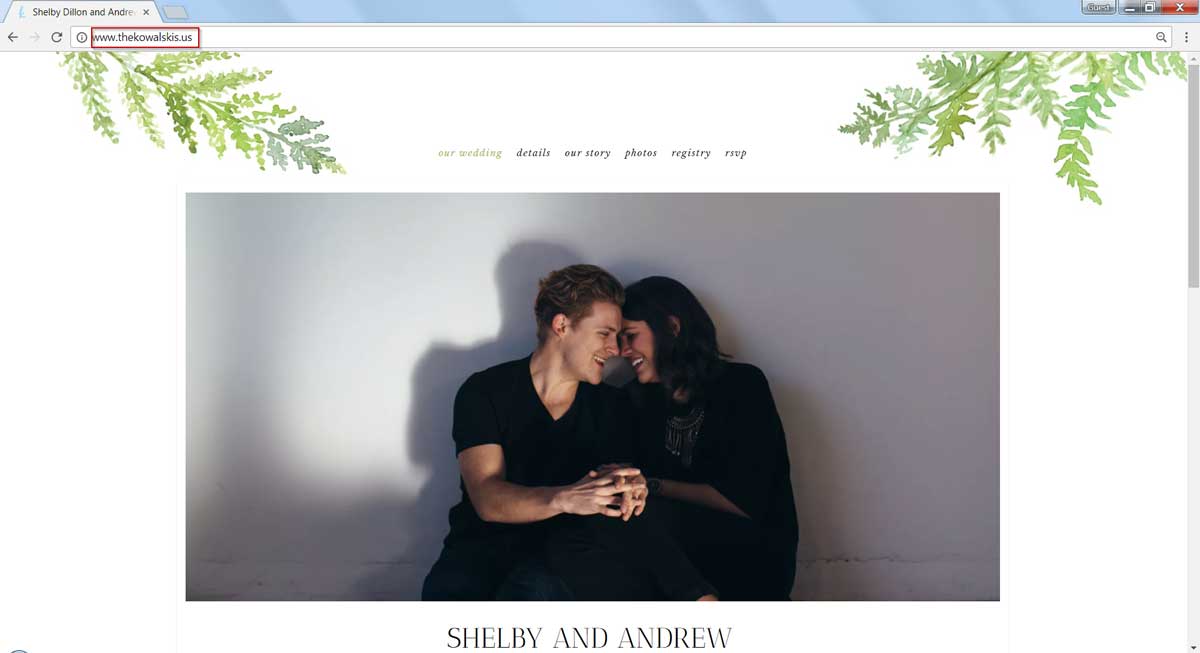 Think outside the box for a domain extension
Most people start brainstorming ideas for their domain names with extensions like .com, .net, or .org. However, it's important to note that these extensions have been around since the beginning of the internet. And that matters because with more than 2 million weddings every year your first choice is probably already taken.
Luckily, new domain extensions offer a solution. Not only do they personalize your web address and make it more meaningful, they also offer you a better chance of getting your first choice. Today, one of the best extensions for couples and families is .US. It's unique, romantic, and it works well after the wedding is over. When a domain name is done right, it can be magical. A name like marklovesjennifer.us says it all.
Read: 3 Reasons Why Couples Should Create Their Own URL
Here are additional samples of how couples are using the .US extension: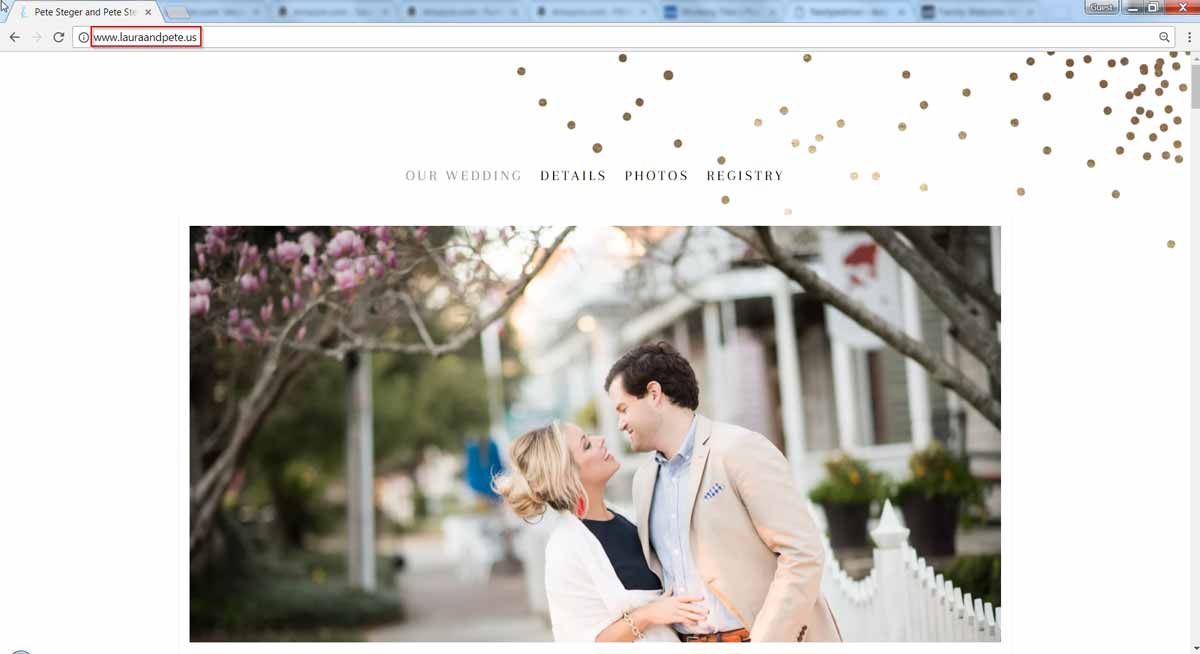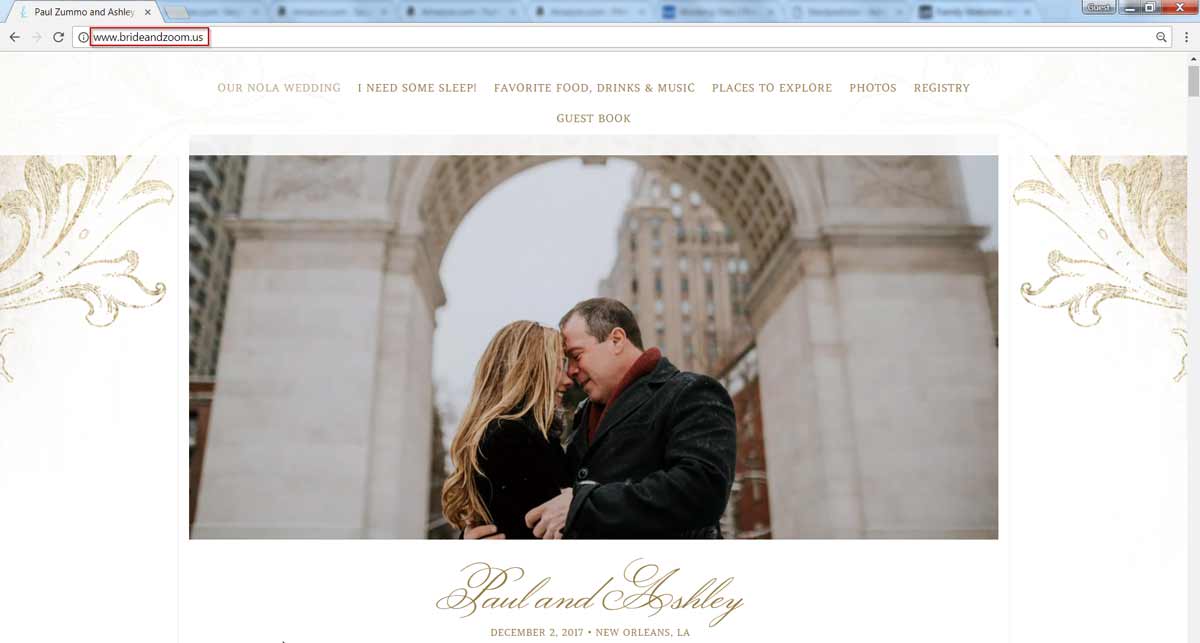 Top-rated website builders
Now that you have the perfect domain, it's time to create your wedding website. Although you can build your own website from scratch, most couples opt to make the process as painless as possible by using a pre-built website solution. Going this route, you can get your wedding website up and running in about a day.
Keep in mind that all website builders don't allow usage of custom domains, so it's important to do your due diligence ahead of time. To skip any potential frustration, purchase your desired domain directly from your selected wedding builder by choosing the option to upgrade to a custom domain. That way, they'll set it up for you, or at least walk you through the process. These are our favorites:
The Knot
The Knot is currently one of the most popular website builders thanks to its easy-to-use interface and great-looking themes—which you can switch out whenever you want. When you sign up for their custom domain option, they handle all the backend integration, which is nice to have. As a bonus, they're constantly adding new cool tools.
Minted
This website builder is one of the superstars in the wedding website world, mainly because its themes have corresponding wedding paper suites so you can have a comprehensive style for all your wedding materials, like invitations. Plus, creating a website with their tools is incredibly intuitive and fast. However, if your aesthetic sense is skewed modern, be aware that the majority of their designs are floral and rustic.
Joy
Even though it only recently launched, many people are already raving about Joy. Besides the fact that it has one of the most intuitive interfaces of the bunch, people really appreciate its many handy features, including an app, digital RSVPs, photo support, wedding registries, and Facebook and Instagram control. Because Joy is just getting started, these features are only the beginning.
eWedding
While eWedding doesn't have a lot of themes, their designs are very clean and simple to navigate for guests. It offers many fun, interactive features that aren't found elsewhere, such as options to add music, quizzes, slideshows, and a wall to post comments. You can change background colors, patterns, and fonts. To add a custom domain only costs $7/month.
Think of your domain as a treasured family heirloom
Many couples are finding that their wedding is just the first of many events in their life they enjoy sharing with close friends and family. As a result, couples are converting their wedding websites to family sites to keep friends and family updated about married life, their growing families, and special days like birthdays, graduations, and vacations. With privacy settings continually changing, not everyone wants to share all their very private lives on social media anymore. Read more about how family sites are more personal and accessible than Facebook.
By choosing a unique wedding web address, you're not only investing in something special for your special day, you're taking the first steps toward creating a treasured family website you can pass down to your kids. Give .US a try today.