How Jewelry Startup Astrid & Miyu Brings London Style To The States
October 11 2021
Authored by: Kristin Johnson • 3 Minute Read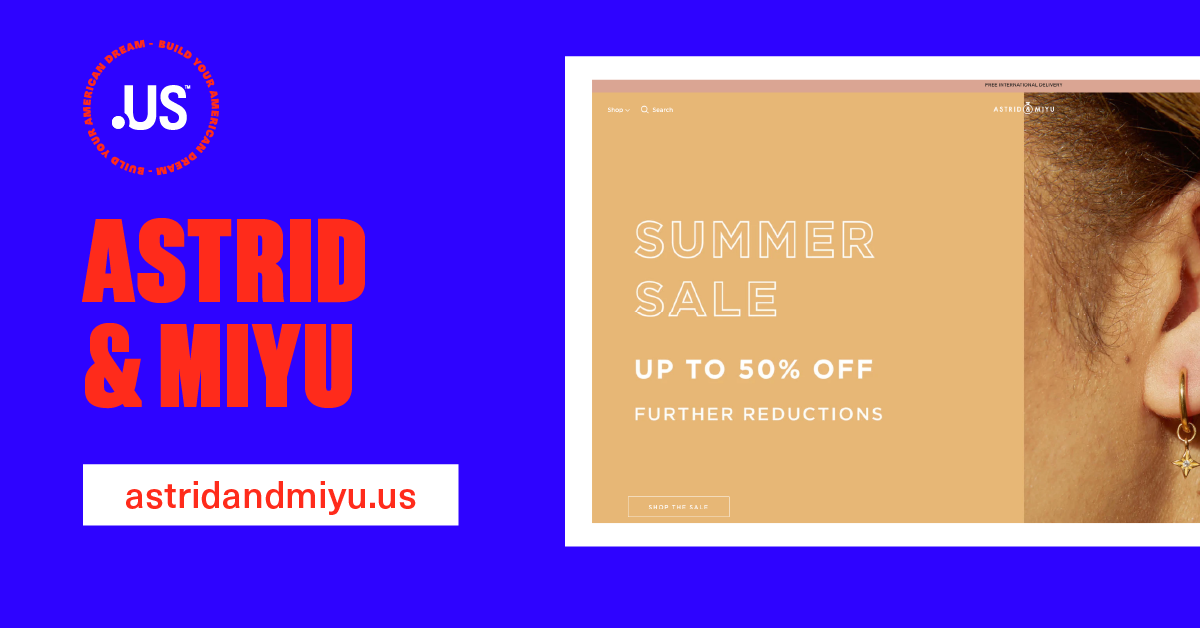 ---
Astrid & Miyu may be a UK-based jewelry brand, but from its understated pearl chain necklaces to its contemporary rose gold huggie earrings, its overall aesthetic is quite universal--and even timeless.
While its boutiques in London and Manchester are beyond the American shopper's reach, they can still access its styles by visiting AstridandMiyu.US. The company recently expanded into the States by using the .US domain as an e-commerce hub.
The company has come a long way since founder and CEO Connie Nam launched the brand in 2012. Nam was born in Seoul, Korea and raised in Washington D.C. and Seattle. The metropolitan lure of London eventually brought her to the English capital, where she enrolled in the MBA program at the London Business School. Her underlying goal was to marry her passion of business with jewelry retail and design.
Nam envisioned a collection that was unique and fashion-forward, yet understated with a touch of elegance.
While her creative side dreamt up the jewelry line's unique aesthetic, her MBA background helped her identify a major gap in the market. She noticed jewelry either fell into one of two boxes: exorbitantly expensive fine jewelry... or cheap, low-quality costume pieces.
Nam's mission was to strike the perfect balance between quality and affordability. Shortly after graduating, she launched Astrid & Miyu from her little flat in Notting Hill. She invested 500 pounds to create the first website. Nam found herself handling all aspects of business, from design and advertising, to finance and shipping. Trips to the local post office became part of her daily routine. Fast forward to the present, she now employs more than two dozen workers, a majority of whom are women.
Thanks to its contemporary styles, celebrities and influencers like Georgia May Jagger, Pippa Middleton and Lydia Millen became quick fans.
But Nam knew a celebrity following alone was not enough to build a lasting company, so she sought to further distinguish the brand. She writes on the company site: "We are known for the perfectly curated ear and this went hand in hand when we developed our very own piercing studios in 2018. We now have 4 stores dotted across London and two concessions, both London and Manchester. We also have had a few pop-ups in New York."
Nam's knack for style also helped Astrid & Miyu to capitalize on other major trends over the past few years, including ear-stacking and mix-and-match jewelry. But as Astrid & Miyu continues to grow and evolve, Nam and her team are ready to turn to the customers for future inspiration.
And just as important as its stunning range of earrings, ear cuffs, rings and necklaces is its company culture. "We were built by strong women and think it's important that we build each other up and always encourage each other to shoot for the stars, or at least wear them in your ears," Nam writes.
While the jewelry CEO has come a long way, Nam is never too busy to share her wisdom with the next generation of young entrepreneurs. She readily shares actionable advice, right on her company website:
"Test your product/idea as soon as possible as your initial concept will never be the one you end up with. Also, do your best in whatever job you're in, as you never know which one of the skills you learnt will be useful in starting your own company."