How An Overseas Terrorist Attack Inspired A Marketing Executive To Start Her Own Business
January 10 2022
Authored by: Kristin Johnson • 5 Minute Read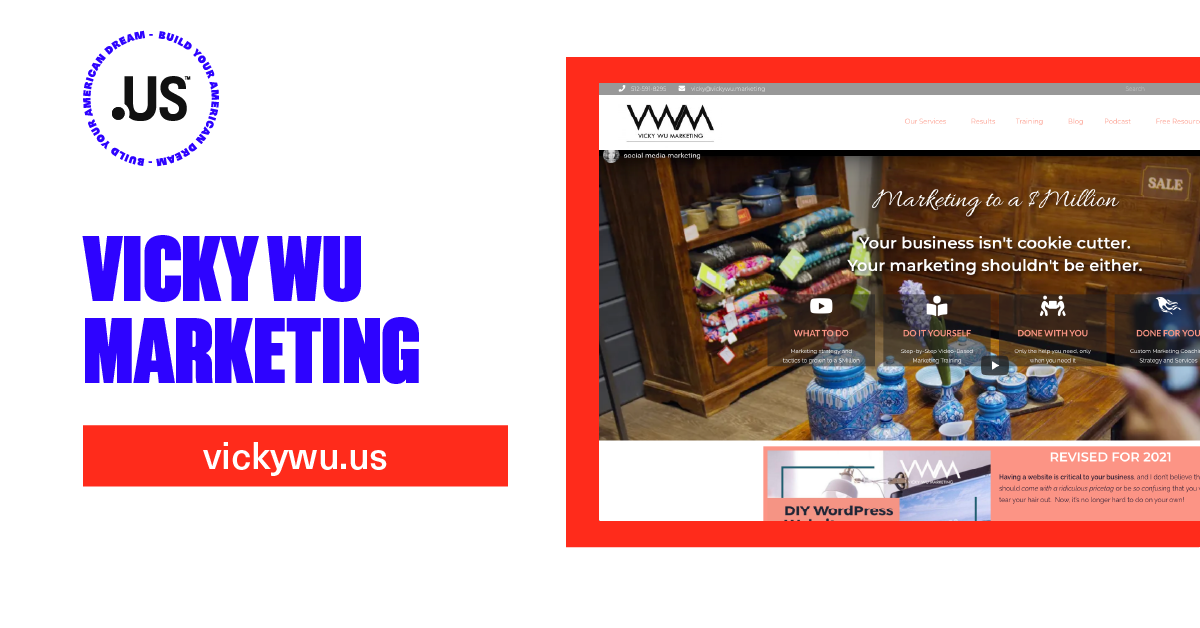 ---
Vicky Wu has spent more than 30 years in marketing with companies like Nokia, Southwest Airlines, the Dallas Cowboys, American Airlines and Century 21.
But working with top-level organizations and climbing the traditional ladder can come with a price.
"I had been working 80+ hours a week for over three years making someone else's business a success," says Wu. "Don't get me wrong, it's people I still love and I still support their business. But my health was suffering. My family was suffering. And that whole 'work/life balance?' I had no life to balance, only work." Still, she found it impossible to exit the nonstop grind.
It took something tragic to inspire Wu to finally regain control of her life through business ownership. Five years ago, the Texas-based marketing strategist launched Vicky Wu Marketing, and took a further leap by specializing solely on startups, new ventures and nonprofit founders who embodied her same, bold, entrepreneurial spirit.
Here, she talks about what spurred her life-changing career move, in hopes it might inspire another professional in need of a mind shift in 2021 and beyond.
What inspired you to create your own marketing business and website?
When I was in my last corporate job, I had been working way too many 80-hour weeks when my husband booked a vacation to Paris, knowing that I needed the break (no complaints here!) During our 10 days in Paris, I found myself still working almost 40 hours while I was supposed to be "off" simply because projects needed to be finished. Then, on our last night, without warning terrorists attacked. That was November 2015. If the 80-hour weeks weren't enough to spur a change, that cemented it when I realized how easily everything could have ended and instead of enjoying a fun break from work and life, I was working. That was the catalyst to become an entrepreneur.
I also realized from working with many entrepreneurs during my corporate journey, they needed even more marketing help yet had access to fewer resources of staff, knowledge, time and money than the bigger businesses and corporate behemoths with entire departments devoted to performing individual functions of marketing. Yet the entrepreneurs' need for access to a high level of marketing expertise was even greater. So I immediately knew which group I wanted to focus on serving as part of my own entrepreneurial journey.
With my marketing background, I know that a website is one of the most important things that you should have for your business. I hear a lot of people falsely claim that you can just use social media instead, and there are SO many reasons why I never recommend this. My website was actually the first piece I worked on -- I would say completed, but it's also something that is constantly evolving as my business grows.
What was your career path before embarking on this new path?
I have 30 years of experience in marketing, including as a former Chief Marketing Officer, providing marketing for Fortune 500 companies and multi-million-dollar and multi-billion-dollar corporations. I have also had the privilege of working with nonprofits who had to really stretch every dollar, and entrepreneurs and startups that also had tight budgets. I've taken the budget-beating strategies I implemented with these groups, and the best practices implemented with the bigger corporations, to create efficient marketing strategies for entrepreneurs.
Tell us about a milestone or moment in your business that you are proud of?
I'm most proud when my clients reach their goals and milestones, especially when it's directly related to the marketing projects that we've worked on, but even unrelated business or personal goals as well. Things like the first time a client reached their goal of a million-dollar-year. When their website traffic dramatically increased. When they reached their lead generation goal. There's really nothing I enjoy celebrating more than THEIR wins!
What advice do you have for other professionals who want to run their own consultancy or agency?
To remember that this is a marathon, not a sprint. Yes we all hear of companies who start making a profit immediately, but realistically that is few and far between. Statistics still say that it takes a minimum of a year for a business to begin seeing a profit, so plan accordingly.
Advice specifically for agencies and consultants is to plan out and automate as many of your workflows as possible. When you can skip manually performing some redundant tasks such as onboarding or offboarding clients, you free up quite a bit of your time to actually do the work that you love doing. These automations don't have to be fancy; you can start with something as simple as email templates. It's important to free your time from those types of tasks that technology can help you accomplish.
What role does the .US domain extension play in your online branding?
One of the first things I noticed was that so many prospective clients who were seeking marketing ended up with outsourced services that did not always meet the level of communication or skill that they required. Big gaps in time zones and missing nuances in culture and language when outsourcing overseas can create marketing messages that are less effective for US-based companies. I knew that to obtain a .us domain extension required verification of a US-based address, and by having a domain that verified that I was located in the US could help prospective customers who had not yet met me know they would be working with a marketing company located in the United States. This is an important requirement for a lot of my US-based clients because of the reasons mentioned.